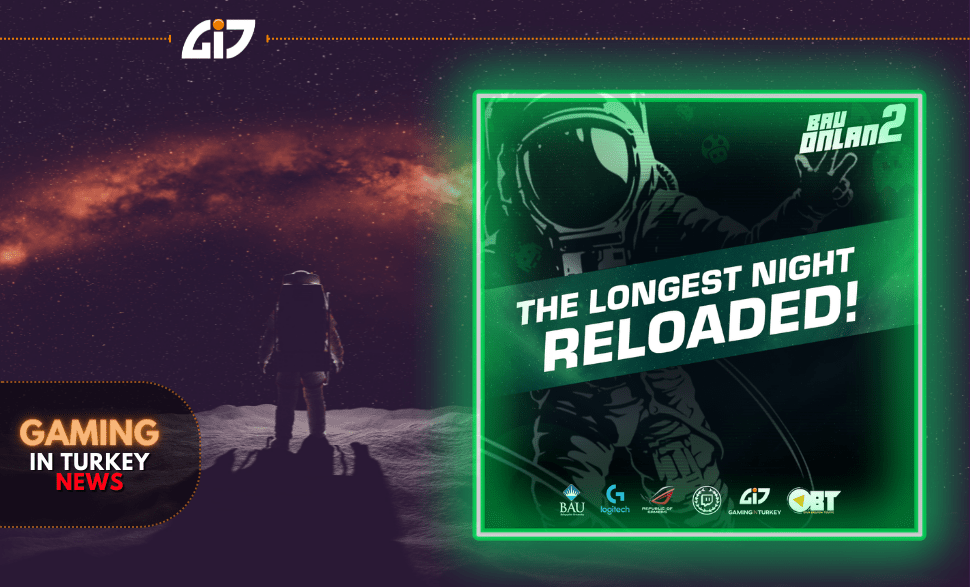 BAU ONLAN Longest Day Esports Event
BAU ONLAN Longest Day Esports Event! On December 21, the longest night, BAU ONLAN 2 was held at Bahçeşehir University with unlimited play and entertainment concepts. During the night, LAN gaming parties, VR, Arcade, Playstation tournaments, Pubg Mobile tournaments, Black Desert game events, competitions, and many other events were held. "BAU Esports" and Gaming in TURKEY | MENA | EU Team, congratulations.
On December 21 we made an event with the BAUesports team which was exclusive to BAU members only. ( Students, Alumni, Staff) BAU ONLAN 2 was an all-night event that puts gamers together and lets them play different kinds of games for 12 hours without taking a break. The event date was 21 December 2019 20:00 – 22 December 2019 08:00 – at Bahçeşehir University Galata Campus. Board Games, Console area, Arcade, VR, Gastronomy contests, Capture the flag contests, Game Films screening, Just Dance, Guitar Hero, Refreshments, Prize contests,  PUBG Mobile tournaments, Black Desert Game events, and many more…
Most important is; it was a BAU Social Responsibility Project. The money gathered from this event was donated to the schools in need in the extent of "Bi Umut"
See you all on the next longest night. Endless thanks to our sponsors Black Desert, Redbull, Playstation, OBT, Logitec, Asus, Only A Gamer, and Adeks.
What We Did at BAU ONLAN Longest Day Esports Event
About Bahcesehir University
The slogan "At the heart of Istanbul" is suitable for a university like Bahcesehir University (BAU)… With its main campus on the edge of the Bosphorus in Besiktas, each day begins early with rapid mobility and continues throughout the day. Moreover, it is possible to encounter an event at almost every part of the university.
The first thing that will strike your eye when you enter our university will be the large number of foreign students. From the United States to China, from France to South Korea from a wide geographical area extending over a thousand foreign students are studying at BAU. When asked why they prefer BAU we always receive the same answer: "The central location and international power." BAU's location is apparent. In order to understand the international collaborations of our university, a short tour of our campus or website would be sufficient.
"BAU GLOBAL" provides BAU students with a chance to receive education from very different points. BAU Global is able to achieve this through Berlin, Toronto, Washington DC, Batumi, Cyprus, Hanoi, Kyiv, Puebla, and Brockville. "BAU Global" allows students to continue their education in all BAU Global Centers overseas and provides all support related to the programs.
You have the opportunity to take a course in your department in Istanbul, Berlin, or Washington DC. Also towards the end of each academic year, you have the chance to apply for BAU's summer abroad programs. Moreover, BAU's summer abroad program is not only for our own students, but is open to students from all over the world!
Transportation to BAU is quite easy. We provide free shuttle service to our students and scholars without their own boats between our two campuses located in the heart of Istanbul, Besiktas North, Beşiktaş South, and Göztepe ve Galata. Our boats depart from an area that we give the name BAUPORT. It is an area that is fully allocated for use by our students with greenery and an exquisite view of the Bosporus. Our boats depart at certain times of the day from our own pier and this allows for a pleasant journey between our campuses in Besiktas and Galata. Thus, students stay away from the busy Istanbul traffic and enjoy the ocean and its fresh air while transitioning from campus to campus. Our campus in Galata specializes in the Communication faculty's work in new media. Tablet publishing in digital media, digital game-based learning of the news from the studio to the desk, and many other workshops are available in Galata.
BAU does not only cater to undergraduate students but also organizes programs for graduates and graduate candidates. Our Graduates Office holds events throughout the year and our BAU graduate family grows each year while sustaining a strong bond even after graduation.