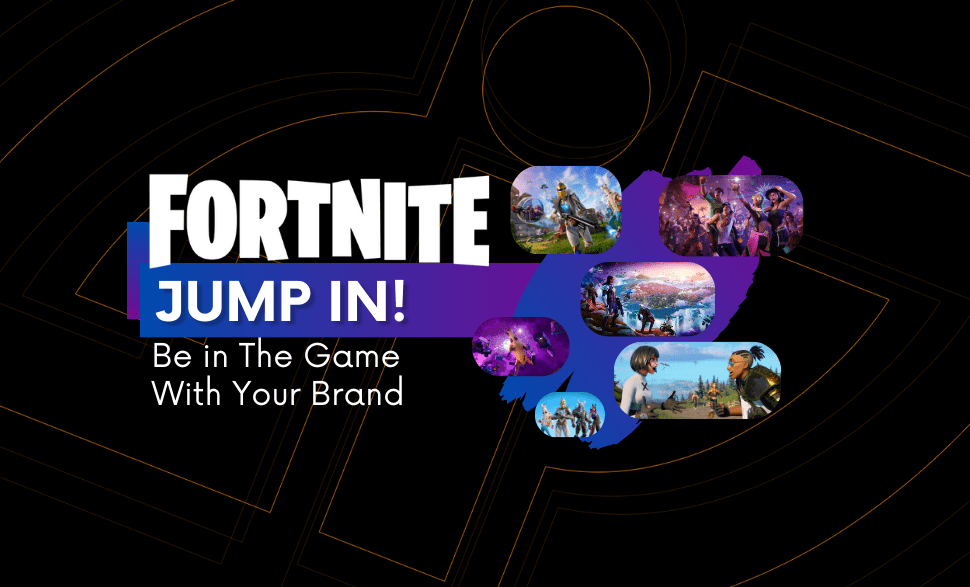 Branded Experiences in Fortnite
Branded Experiences in Fortnite: A Strategic Approach to Custom Gaming Experiences! Fortnite, with its colossal community and immersive user-generated content, stands as a powerhouse in the gaming industry. Boasting over 25 million daily players, more than half of whom engage with user-generated content, the game has become a virtual universe where brands can authentically connect with their target audience. Good news for brands; Fortnite transformed into an advanced platform for custom-made games and experiences – where brands can launch Unreal Engine-made creations to a built-in audience of millions.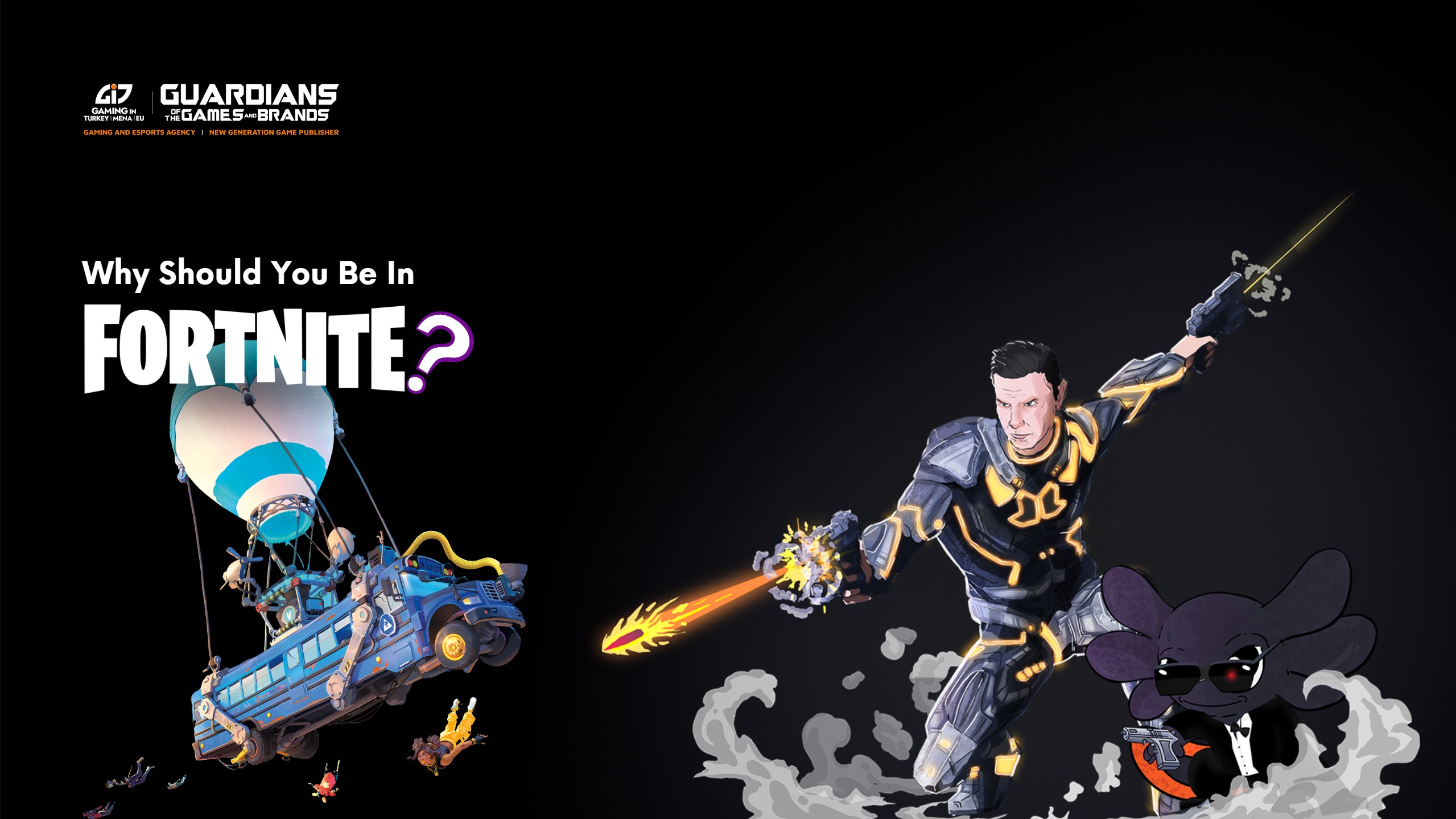 Branded Experiences in Fortnite
As Gaming in TURKEY | MENA | EU, from now on we can use Unreal Engine's editor for brands to build tailor-made experiences without the huge price tag and design limitations. With the launch of UEFN, we can now use the power of Unreal Engine's editor to build stunning games, that can make use of fully custom assets such as icons and logos, all the way up to detailed, animated, and interactive products for brands.
Branded Experiences in Fortnite – BMW
Community Power and User-generated Content
The Fortnite community is unparalleled, with a massive player base of around 400 million registered users and over 250 million monthly players as of 2023. A staggering 25 million players engage with the game daily. This vibrant community presents an opportunity for brands to enter the Fortnite Metaverse and interactively reach their demographic where they are most active.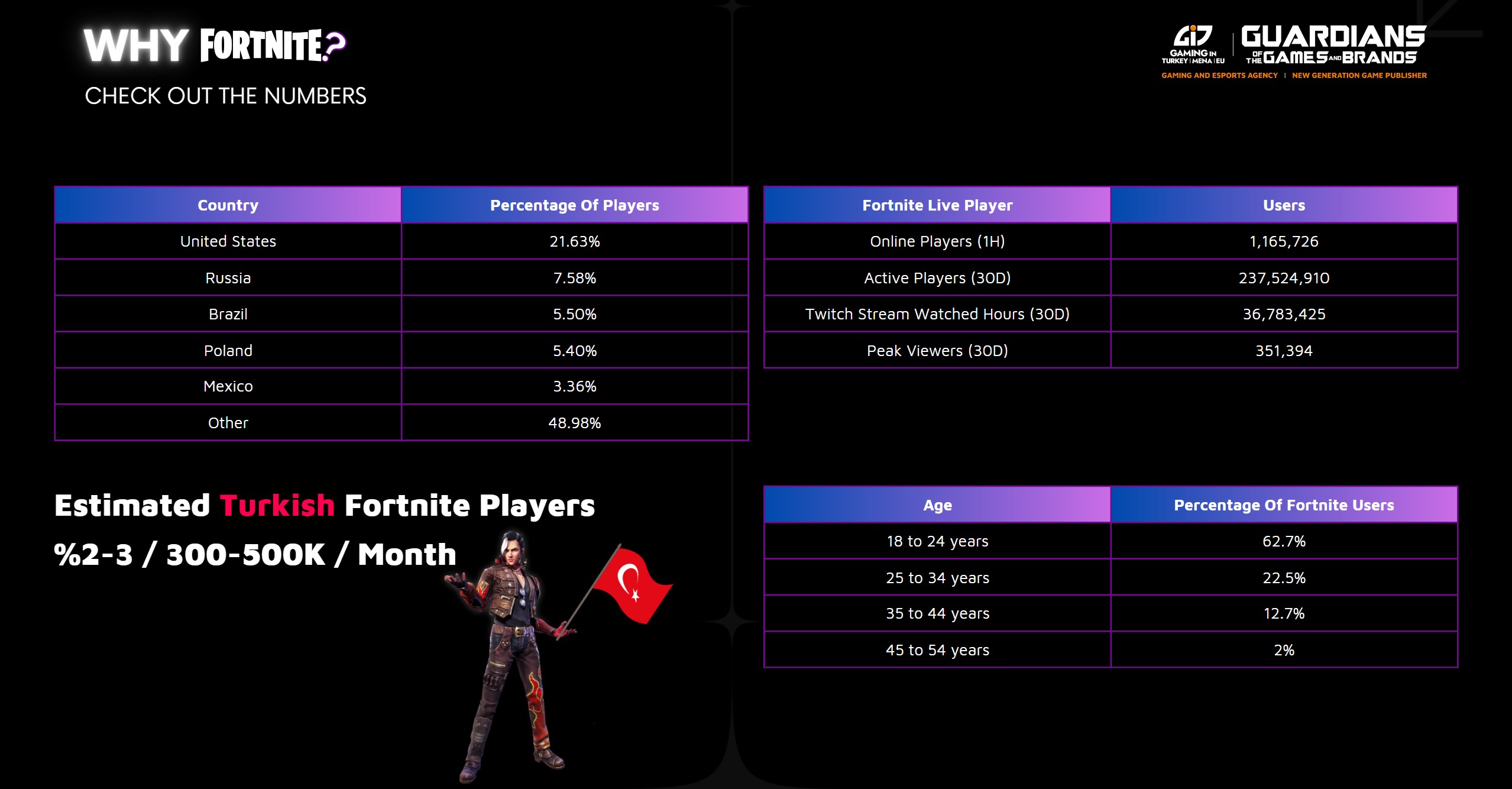 Unlocking the Potential with IPs – Meet Your Audiences in Their Preferred Channels
Fortnite has amassed the world's largest and most diverse collection of intellectual properties (IPs). The introduction of the Creator Economy 2.0, sharing 40% of Fortnite revenues with creators, underscores Epic's commitment to fostering a creative ecosystem. The custom programming language, Verse, and unified digital asset stores with custom importing to the Unreal Engine for Fortnite (UEFN) enhance the visual and brand integration possibilities.
Branded Integrations and Accolade XP – Branded Experiences in Fortnite
Brands can leverage various elements within Fortnite for engaging integrations: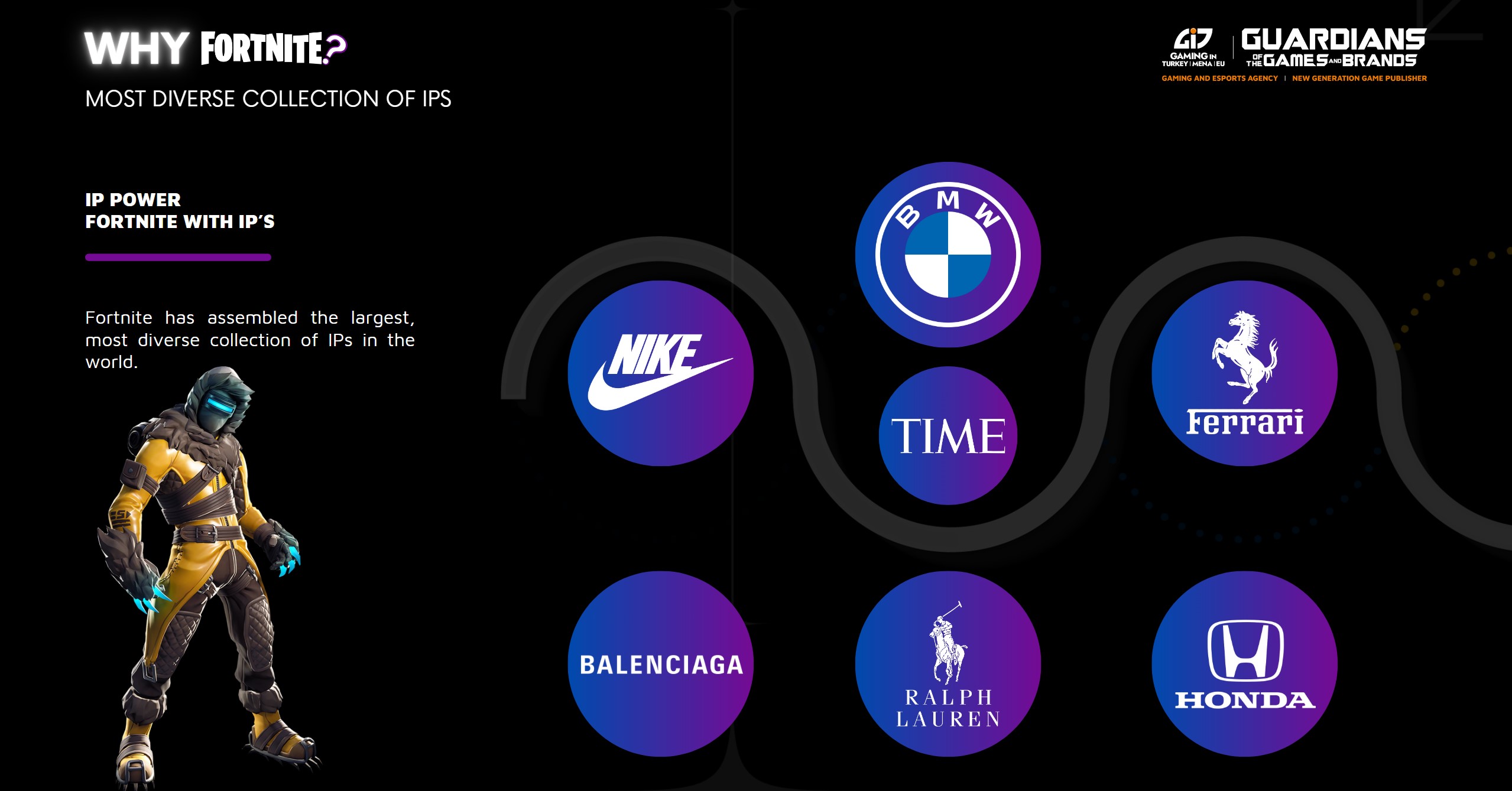 Unlockable Environment: Create exclusive in-game environments accessible through specific achievements.
Unique Weekly Missions/Questline: Develop custom missions or questlines that align with brand messaging.
Branded Billboards and NPCs: Increase visibility through strategically placed billboards and interactive Non-Player Characters (NPCs).
Product Placement: Seamlessly integrate products into the game environment for heightened brand exposure.
Pop-up Environment and Portals: Surprise players with temporary branded environments and gateways to unique experiences.
XP Awards: Reward players with in-game experience points for interacting with branded content.
Empowering Brands with Custom Fortnite Experiences
The true game-changer lies in our ability as a company to craft bespoke gaming experiences within Fortnite. As a gaming and esports agency, we specialize in creating tailor-made games that seamlessly integrate brands into the fabric of Fortnite. From conceptualization to execution, our team ensures that each game reflects the unique identity and messaging of the brand, fostering a deeper and more meaningful connection with the gaming community.
Branded Experiences in Fortnite – NIKE
Impressive Statistics Reflecting Fortnite's Reach
The numbers speak volumes about Fortnite's influence:
21.64% of players hail from the United States.
Players spend an average of 6 to 10 hours weekly on the platform.
Fortnite generated a staggering $5.8 billion in revenue in 2021.
62.7% of players fall within the 18 to 24 age group.
Approximately 90% of Fortnite players are male.
78% of players prefer console gaming.
Fortnite ranks 6th on Twitch, with 41.7 million live streams watched in January 2023.
The Fortnite Discord server boasts over 827K members, making it the largest on the platform.
Branded Experiences in Fortnite isn't just a trend; it's a strategic move to tap into a massive and engaged audience. As Epic continues to innovate with new features and revenue-sharing models, brands have the opportunity to create memorable experiences within this dynamic gaming ecosystem. Let us be your partner in crafting a unique gaming experience that amplifies your brand's presence in Fortnite. We're here to ensure that brands experience a unique interaction in Fortnite. If you aim to position your brand with custom games, create a robust presence in the Fortnite world, and embark on a journey of distinct engagement, reach out to us. At Gaming in TURKEY | MENA | EU, our expert team is excited to provide tailor-made solutions, highlighting your brand in the dynamic universe of Fortnite. Get in touch with us for an impactful Fortnite experience and discover the advantages of showcasing your brand in the gaming realm.