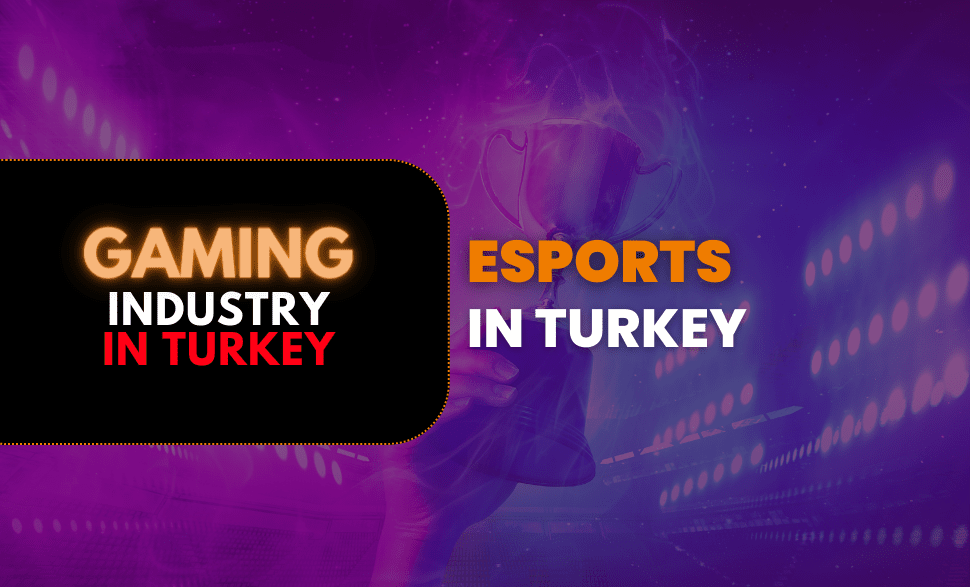 Esport In Turkey – Esport In World
Esport in Turkey; Today we bring you a detailed article about Esport from Turkey. One of our colleagues from the game business, Zafer Yılmaz wrote this article for the Webrazzi website. We think, this is the most detailed article about Esport in last years about conditions and decided to translate it into English and share it with you. Below, you can find his long but explanatory writing.
Esport (Electronic sport, competitive game, professional gaming, etc) is a new form of sports that has computer/console/mobile platforms to make players compete in individual or team play. Electronic Sports were introduced as popular among the younger mass because it doesn't need expensive equipment/facility or big financial operations, its played in digital/virtual environment and all over the world.
When we check the numbers; Global Digital Game business sales are around 62 billion dollars including Esport according to February 2016. Esport takes 650 million dollars in 2015 and now it's around 750 million dollars. In 2018, predictions are around 1.9 billion dollars which means 2.5x multiplied in only 2 years.
BEST GAMES IN 2015 ACCORDING TO REVENUE
Game, Developer, Platform, and Revenue – USD MILLION
League of Legends, Riot Games – PC $1,628
Clash of Clans, SuperCell – Mobil $1,345
Crossfire, SmileGate – PC $1,110
Dungeon Fighter Online, Neople – PC $1,052
World of Worldcraft, Activision – PC $814
Game of War, Machine Zone – Mobil $799
Puzzle & Dragon, Gungho Online – Mobil $729
Candy Crush Saga, King Digital – Mobil $682
Monster Strike, Mixi – Mobil $674
Fantasy Westward Journey, NetEase – Mobil $451
Regionally predictions were Korea and China will dominate the game business with 380 million dollars in 2015, America with 143 million dollars, and Europe with 72 million dollars following Asia but at the end of 2015 analysis showed that Asia go back to $275M and America became $225M and Europe increased three times bigger than predictions and came to $226M. Known reasons are big investments in America and Europe-based game companies. When we check platforms, PC & Mobile are far away from the console.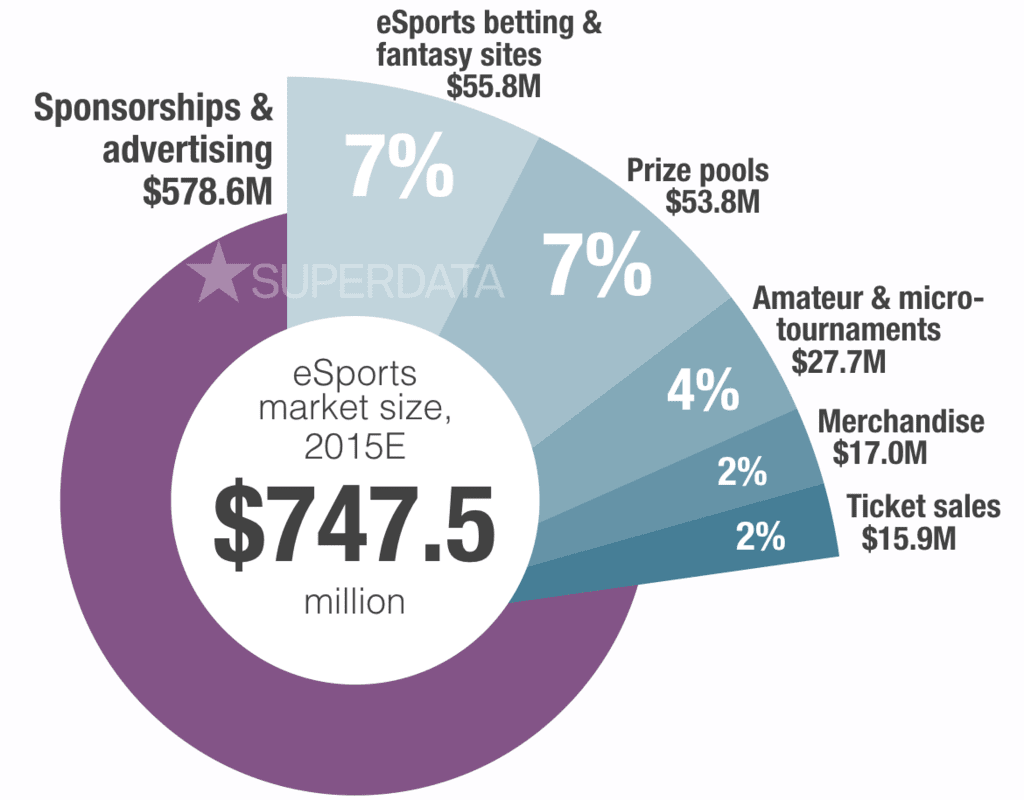 There are some reasons for increasing numbers directly and indirectly. The main reason is indirect marketing and advertisement activities ($578M). When we check NBA Teams sponsorships, game business advertisement, and the marketing value is only %28 lower and this show how big numbers we are talking about. Direct effects are coming from betting (%7), prize pools (%7), amateur and micro tournaments (%4), ticket sales (%2), and merchandise (%2).
And the "audience". According to research, %13 of total internet viewers are esport fans. In 2015, Esport has globally 135 million viewers whole over the world, and in 2018 it will reach 220 million with a %60 increase. Especially specific tournaments for specific games, some game live streams reach 1.2 million viewers at the same time. For example between 30 March – 03 April, MLG Columbus Counter Strike Global Offensive tournament (Major League Championship) viewers watch 71 million hours of video, 45 million live stream attending, and 1.6 million instant numbers which were 2016's top.
TWITCH VIEW NUMBERS IN JULY – DECEMBER 2015 FOR ESPORT GAMES
Game, total hour game broadcast, total view
League of Legends (142.8 Million, 308.5 Million)
Dota 2 (125.4 Million, 116.2 Million)
Counter-Strike: Global Offensive (125.1 Million, 184.3 Million)
Hearthstone (29.7 Million, 203.6 Million)
StarCraft II (17.5 Million, 19.4 Million)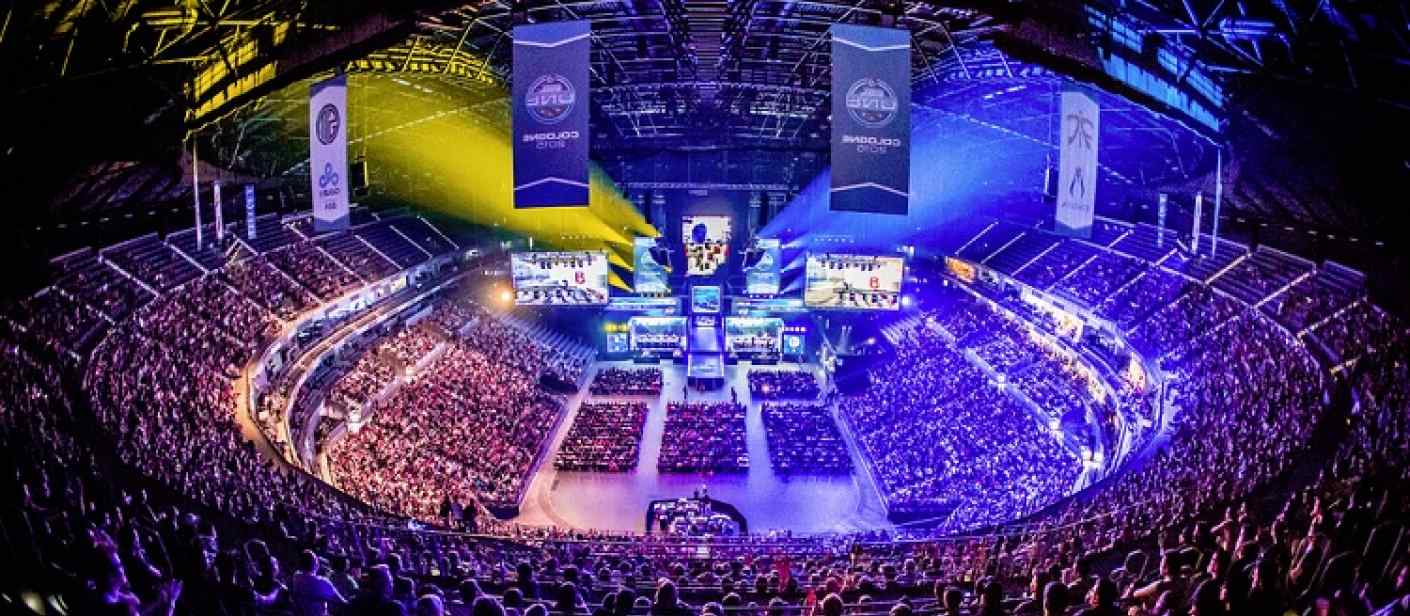 The target audience is around 15 – 26 age but viewers are between 14 – 35 age. In the last couple of months, some new faces are entering the Esport business. ESPN for example started to create digital content and give global finals of some games live broadcast from its channels. Also, BBC and TBC started live broadcasts. In Turkey, the League of Legends Winter Season Final round was on a TV Channel named Digiturk at the same time as the internet. Why audience is the important? When we look to football and check Messi, Ronaldo or basketball Michael Jordan, Lebron James, esport has also its own celebrities and superstars. Viewers follow professional gamers' live streams, tournaments, and their lives taking them as an example for their gaming career.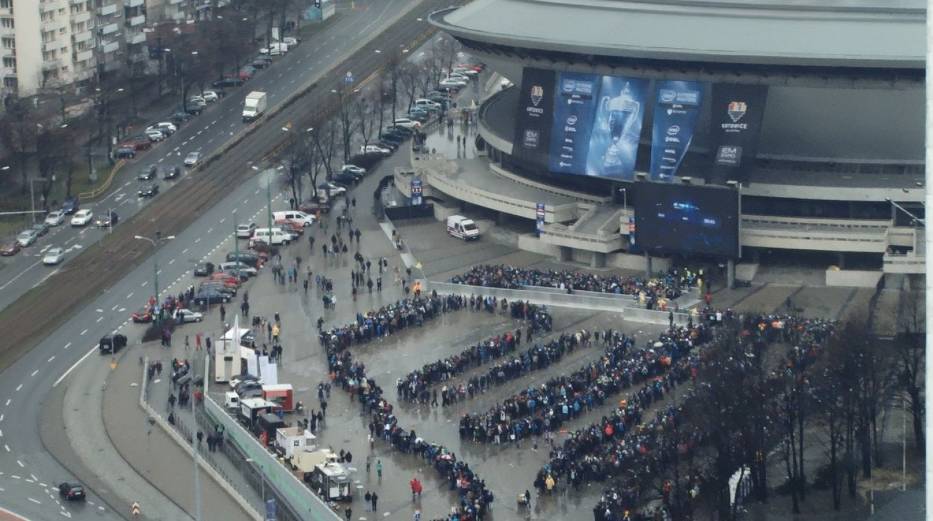 ESL Internet Extreme Masters 2015 Katowice tournament, viewer queue (35.000m2 International Congress Center)
Global Esport Tournament prize pools are increasing every year. Between 2014 – 2015, the increase rate was %214, and in 2015 total prizes cost $75M. Only Dota 2's "The International" world finals tournament prize pool was 17 million dollars and it was approximately %20 of the total prize pool in 2015.
Why Esport is so valuable? Let's check pieces (5) of them;
1. First of all we can take developer and publisher companies. (Riot Games, Activision, Blizzard, Valve, Wargaming, etc.). More interesting games from the mass are League of Legends, Dota 2, Counter-Strike: Global Offensive, World of Tank, and Hearthstone.
TOP-LEVEL ESPORT GAMES AND NUMBERS
League of Legends, Riot Games (PC) – 67 million active users (Source: Riot, January 2014) – Not officially but this number now reached around 90 million active users.
Dota 2, Valve Software (PC) – 12.45 million active users (Source: Valve, 29/02/2016). According to North America Steam data.
Counter-Strike: Global Offensive (CS: GO), Valve Software (PC and console) – 10.45 million active users (Source: Valve, 29/02/2016)
Hearthstone, Blizzard Entertainment (PC, tablet, and mobile) – 25 million active users (Source: Activision-Blizzard, Q4 2014)
2. Physical arenas for esport tournaments and stream platforms like Twitch, Azubu, Youtube, and Dailymotion.
3. League and Tournament organizer companies like ESL, MLG, Dreamhack
4. Esport Team and Clubs are the most valuable points. These teams and clubs have their own unique uniforms and sponsors to join every tournament and competition with individual players or teams.
5. And finally we will check brands. These brands make esport businesses grow by sponsoring tournaments or teams, preparing their ROI-based targets, and increasing the value of Esports. We can see global brands in esport area like Coca-Cola, Redbull, Vodafone, Nissan, Razer, Intel, Samsung, LG, HTC, Alienware, etc. According to Newzoo's report, in 2016 brands will spend $325M for advertisement and sponsorships. This number is greater than %49 last year. In 2019, predictions are around $800M.
World Esport Economy
GLOBAL BRANDS AND ESPORT
Intel – Intel is a pioneer in Esport area. They are making Intel Extreme Masters with ESL and special projects to make teams become competitive from 7 different points of the world for years.
Coca-Cola – Coca-Cola cans dressed with League of Legends characters and with Riot they prepared LCS named tournament. It's known as the Champions League in Turkey and continues.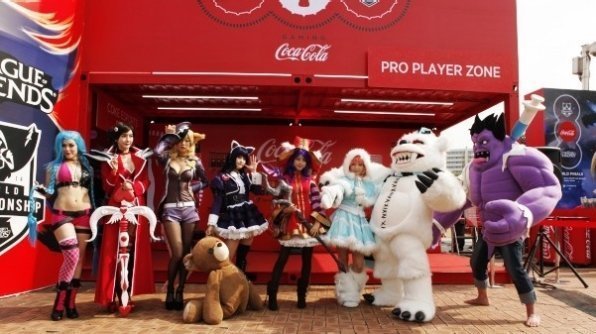 Redbull – Redbull is also a pioneer. They are supporting teams and individual players in Esport tournaments and leagues and they are also making sponsorships with specific game tournaments and leagues.
Vodafone – Vodafone sponsored to Gamers2 Team in Spain, they are preparing a studio to make special content about Esports and their sponsored team.
ESPORT IN TURKEY
Turkey became a critically important country because of strong internet cafe expansion around cities. Also, the young population is more than in Europe but the most important part is the companies who see these points to be a potential to invest. According to those facts, companies like Joygame (Netmarble Turkey), Riot Games, Nfinity Games, Bigpoint, NTTgame, Gameforge, and Lokum Games are investing Esport in Turkey. Especially Riot Games' League of Legends is very strong at global and it also affects Turkey's Esport culture mainly.
DIGITAL GAMES IN TURKEY
Market Volume: $400 – 500M
Player: 22.000.000+
The player using cash: 13.000.000+
Internet Cafe: 20.000+
ELECTRONIC SPORTS IN TURKEY WITH NUMBERS
Numbers are APPROXIMATE
Amateur Teams: 14.000+
Player numbers in teams: 60.000+
Esport Players with a Licence: 4.000+
Succeed Professional Team/Club: 10 – 16
Pool Prize in 2015: 1.500.000 TL
When we look at the success stories of teams, we reach;
Dark Passage, HWA Gaming, Team Turquality, BJK OyunHizmetleri, SuperMassive, ZONE eSports, Crew eSports, Team Aurora, ANT Gaming, BPI Gaming Club, Space Soldiers, Number one eSports. Especially Beşiktaş, (one of the professional football teams in Turkey) first sports team entering the Esport Area with a partner Oyun Hizmetleri epin company and Lidyana owner (e-commerce website in Turkey) Hakan Baş is co-founder of SuperMassive Team are important steps for Turkish Esports.
When we check the brand base, it's very low numbers we see according to global business. But some local and global brands also making sponsorships and support Esport like Razer, Steelseries, Logitech, TTeSports, ASUS, MSI, GIGABYTE, TP-Link, Zyxel, BenQ, ViewSonic, Paypal, Kaspersky, Ülker, AMD, Coca-Cola, Redbull, Nescafe, Turkcell, TeknoSA, NVIDIA, and Platronics.
Turkcell – Turkcell (one of the well-known GSM operators in Turkey) sponsored to League of Legends Champions League in the 2015 season and made sponsorships to 8 participant teams. Turkcell also prepared sign days for fans and create special communication packages.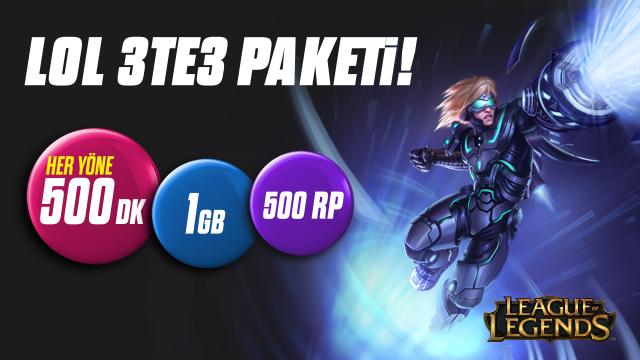 Global improvements
USM Holding bought Virtus.pro team for $100M
Modern Time Group invested ESL with $85M for a high %rate of the company
Riot Games bought content and statistic provider Curse with $30M
Activision Blizzard bought tournament organizer MLG with $46M
Alibaba with World Electronic Sports Games announced that they will start $15M prize pool tournaments.
There is a talk of well-known NBA stars Shaq O'Neill and Mark Cuban's investments in Esport teams.
Under the management of Lionsgate Venture Head Peter Levin and Steve Kaplan who is a co-partner of Memphis
Grizzles, Venture Capital invested in Immortal CLS Esport Team.
DraftKings and FanDueleSpor announced their bet websites.
Yahoo started special content for Esports and Twitter & Yahoo opened their Gaming concept.
Last words and Esport in Turkey
One day, Esport will pass traditional sports with its young, global, digital, and various characteristics. Will it be accepted like a Sport? Does it matter? Esport is here! It proved itself with its numbers, it's real and it's growing. We will see more brands in the Esports area but which of them, we will see?
PREDICTIONS about games and Esports In 2016
Esport Viewer frequency and profiles
Brands' approach to Esport and gaming business
Ingame content based on users
Local payment methods
Games and competitive mobile games will expand with multiplayer mods
Online stores will sell services and products
Twitch and Youtube platforms will grow their gaming sides.
Games as a service
Multiple screen entertainment elements
Live Stream/Video tools and platforms, content creating
Consumers and increasing game/esport entertainment increase
Personal Predictions and Opinions
Brand stories based on Esport contents
Virtual Reality (VR) will increase in the gaming business and Esports
Every offline event will be a part of online.
Regulative and legal order will spawn
Esport agencies will spawn or agencies will start to work on Esports
Angel investors and Venture Capitals will invest Esport clubs/teams
Brands who will not invest Esport, face the hard face of business.
Management will be a foreground for Esport team coaches and trust & transparency will be important for Esport teams and clubs.