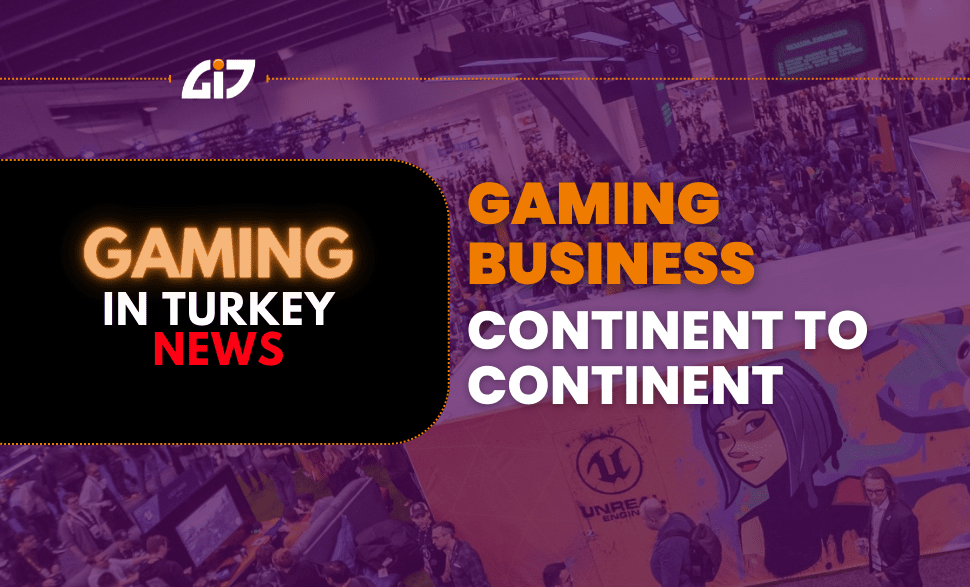 Gaming Business From Continent To Continent
Gaming Business Talks from Turkey about Game Connection & Game Developers Conference. Hello, Gaming in TURKEY | MENA | EU followers. This week we will talk about our visit to America for Game fairs. Our founder Mr. Ozan Aydemir participated in Game Connection and GDC in San Francisco at the beginning of March. We will check his impressions and connections. Let's start!
From February 27 to March 3, two major network fairs of the gaming world in San Francisco, the technology center of America, realized Game Connection and GDC. At Game Connection and GDC, fairs which are organized in Europe, America, the Middle East, and Asia every year, producers, publishers, game media, and speakers from different continents came together and made their promotions for sectoral associations. We, as Gaming in TURKEY | MENA | EU, have had the chance to tell once again the magnitude of Turkey's representation market and found the gates of all the gaming and media companies that can invest in Turkey on a global scale.
GAMING BUSINESS
First of all, if you need to know the future of the game world, the way to go is very clear; Mobile Games, VR (Virtual Reality), and AR (Augmented Reality) followed by PC and console games that lead to mobile games. Many of the hundreds of companies participating in the GDC and Game Connection (Argentina, Brazil, Korea, China, Thailand, Russia, Germany, USA, Poland, Sweden, and Switzerland) It was sad that there were very little number Turkish companies like us in such a promotional environment and there was not common participation.
Despite being a very successful gaming company in Turkey, there was little participation like the fingers of a hand from Turkey. We were expecting more participation and global breakthroughs in the Turkish game market. Nearly 100 Turkish game companies after 2016 (over 300 million dollars in mobile revenue). Despite the fact that we have gaming companies that have gained a global reputation, we still need to have much more B2B participation, especially if we look at export figures and turnover and there are more ways we have to go global.
Gaming Business! In the game sector, which has reached 100 billion dollars all over the world, we can say that top of the list belongs to mobile games with 37 billion dollars in revenue yearly. Our observations in San Francisco were also proof of this; Most of the country-independent participants exhibited with their mobile games. And the fact is that now companies have taken care to create content that every player can play in every continent rather than Argentina or Korea's independent cultural objects. The biggest factor in this is the fact that they offer less content to a player in a local market and try to gain a global chance of being locked up in a certain turnover. The biggest feature of mobile gaming is especially when big companies use large IPs by agreeing with giant brands like Marvel, DC, and Disney. Trends in mobile gaming are; Moba, RPD, and Strategy. The remaining medium-sized or indie-sized small & individual companies have exhibited their simpler, smaller-minded, but brighter-minded games.
Especially Pokemon GO seems to open a way to AR (Augmented Reality) + Mobile Game combination in future days. Many producers have increased their investments in this area and we can easily say this in the context of our observations. Virtual Reality is still in its infancy time. All the information we got from the interviews we made is, that VR will shape our entire future or a periodic hype storm. The reason for this is actually quite technological. Although the games or programs realized with VR technology for bow, have reached satisfactory levels in terms of content and quality, It is not yet a cheap system to go to the dwellings and its use does not offer a comfortable environment for long periods of time. If technology will be advanced and solutions to these problems are found, then it will certainly shape the future.
We, as individuals who have been in the sector for many years, offer to all firms that want to develop especially in the game sector in Turkey; Game Connection, GDC, Chinajoy, G-Star, Gamescom, etc. by participating in sectoral fairs and develop their network will see innovative ideas in place.
Ozan Aydemir
Founder of Gaming in TURKEY | MENA | EU
Let's see you next week, from Turkish news and improvements in the Turkish gaming business.