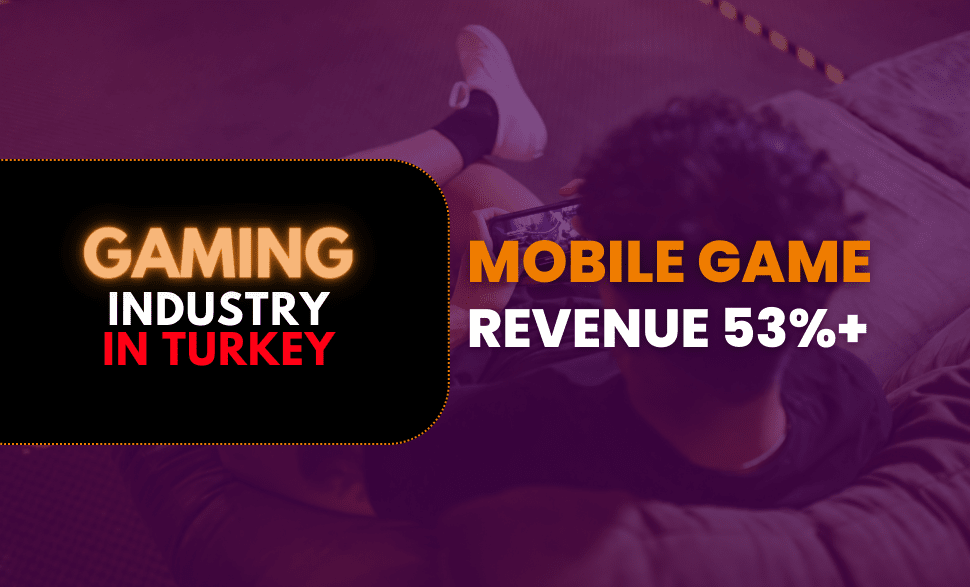 Mobile Game Revenue Grew %53 To 11.9 Billion In Q1 2017
Worldwide mobile game revenue from iOS and Google Play stores grew 53 percent to $11.9 billion, according to a report today from measurement firm Sensor Tower Store Intelligence. But Google Play revenues are growing at a much faster rate than Apple's, at 83 percent versus 35 percent.
Apple app store revenue grew 35 percent to $6.6 billion from $4.9 billion in the first quarter, compared to the same period a year earlier. Google Play revenue grew 83 percent in Q1 to $5.3 billion from $2.9 billion a year earlier, according to Ruika Lin, the mobile insights analyst at Sensor Tower.
MOBILE GAME REVENUE
Mobile game installs on both stores were at 8.8 billion in Q1, up 15 percent from 7.6 billion in the first quarter of 2017.
During the first quarter, Kiloo's Subway Surfers was the world's most downloaded mobile game. Mixi's Monster Strike continued to dominate the revenue chart as Q1's top earner. And Tencent's King of Glory gained momentum in Q1 and ranked within the top 10 for downloads and revenue, despite being absent from both lists in the fourth quarter of 2016.
But last year's viral launches Pokémon Go and Super Mario Run both showed signs of decline in Q1 in terms of downloads and revenue rankings.
Mobile Game Revenue! A year ago, mobile game revenue was $7.8 billion in the first quarter of 2016. Mobile games continued to be the dominant category for all apps worldwide in terms of monetization, accounting for close to 80 percent of the gross revenue generated by Apple's App Store and more than 91 percent of Google Play revenue in the first quarter.
Kiloo's Subway Surfers topped the overall downloads chart in the first quarter. Nintendo's Super Mario Run's momentum decreased in the new year. Despite the slowdown, Nintendo's first mobile game still remained competitive as the runner-up on the App Store, the only platform it was available on for the majority of Q1. It was only recently released on Google Play.
Tencent's King of Glory became the world's most downloaded mobile game on the App Store last quarter, and landed a spot in the top 10 overall ranking thanks to an increased number of new installs during Q1, mainly from China. King of Glory was the only top 10 game last quarter that was absent from the list in Q4 2016. In fact, it was only ranked No. 31 for overall downloads that quarter.
On the revenue side, Monster Strike retained its first-place position in the overall and per-store rankings last quarter. As the top earning game for all of 2016, Mixi's popular title continued to monetize extremely well in Japan and dominate revenue in the worldwide mobile gaming market overall.
The runner-up on the overall revenue chart was Type-Moon's Fate/Grand Order, another popular mobile game from Japan. It got most of its money from Japanese players. Although it was one of the top 10 across all three rankings in Q4 2016, Fate/Grand Order increased its position last quarter, taking second place on Google Play and a spot in the top five on the App Store.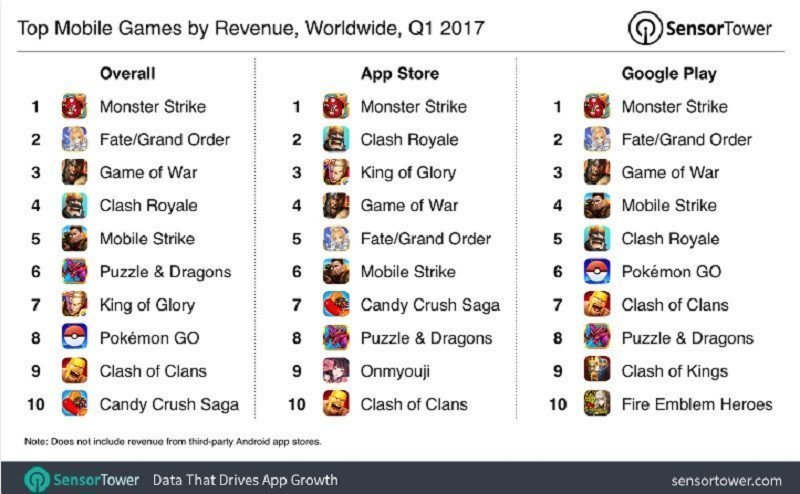 Similar to its downloads story, Tencent's King of Glory climbed up to No. 7 in Q1 from No. 11 in Q4 last year, thanks to increasing player spending from China. Last quarter it nearly swapped positions with NetEase's Onmyouji—another popular title from China—which ranked No. 9 in Q4 2016 but dropped to No. 11 three months later.
Supercell's huge hit Clash Royale surpassed $1 billion in lifetime gross revenue in February 2017, placing it among the top five across all three of our rankings for the last quarter. Niantic's Pokémon Go continued to lose revenue momentum in the new year. (Niantic said the location-based game has 65 million monthly active users).
Although it still ranked within the top 10 overall, Pokémon Go dropped from No. 4 in Q4 2016 to No. 8 last quarter. Its in-game events during Q1 (Valentine's event and Gen 2 update) couldn't prop up the game's popularity compared to last year. On the App Store, Pokémon Go dropped out of the top 10 altogether in Q1 even though it was there in the preceding two quarters.
Another much-anticipated launch in Q1—Nintendo's second mobile game, Fire Emblem Heroes—made it to the top 10 for revenue on Google Play, ranking No. 10. at $2.9 million on its first day of worldwide release. More than 75 percent of its overall revenue in Q1 came from Japan.
Source: Venture Beat