Pastavilla Mac & Cheese PUBG: BATTLEGROUNDS Tournament
As Gaming in TURKEY | MENA | EU Gaming and Esports Agency, in cooperation with Pastavilla, we organized a PUBG: BATTLEGROUNDS tournament in November 2022 to promote Pastavilla's Mac & Cheese products. Increase the awareness of their product and brand among the player audience to show support for gaming and esports.
About Pastavilla Mac&Cheese PUBG: BATTLEGROUNDS Tournament
In total, 250 teams and 500 players participated in the tournament we organized. Players made their tournament applications through our GIT ESPORTS DISCORD channel.
All the details and technical support about the tournament were given from our Discord channels. Players competed in a total of 6 matches in fierce competition and fought to make it to the finals. The tournament final, which was full of excitement every second, was broadcast live on the Twitch channel with the narration of 10000Days. At the end of the great competition, the top 10 teams won prizes from a prize pool of 20,000 TL.
To promote the tournament and reach a larger player base, registration, and prize announcements were made with 3 influencers via their Instagram accounts. With the contributions of 2xCIV, 10000Days, and YukowOw, we made tournament announcements and live broadcast announcements both on Instagram and Twitch.
As Gaming In Turkey, we would like to thank all our competitors, especially the AfewGoodMan team, who made it into the top ten and participated in the tournament, for their performance!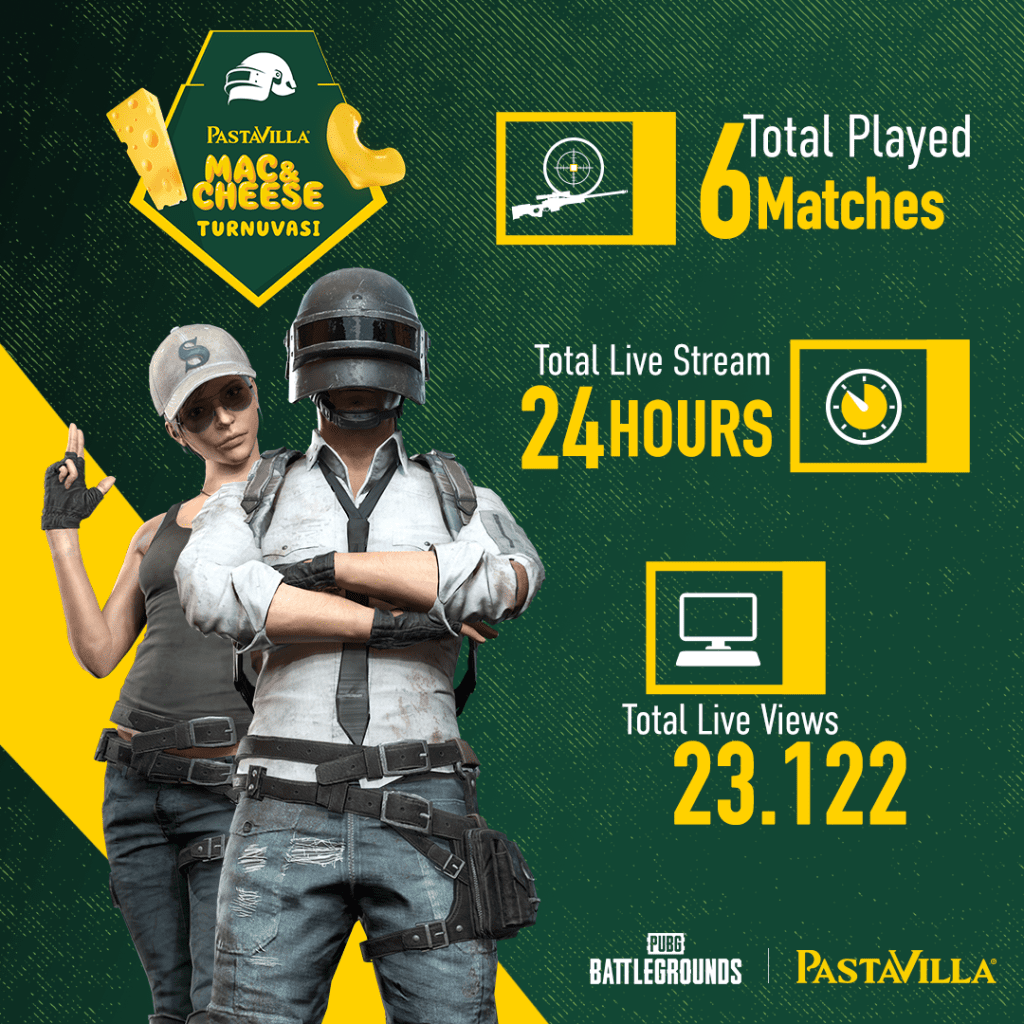 Tournament Stats:
675 players applied for the tournament.

There were 250 teams and 500 players in the tournament.

The total number of matches played during the tournament was 6.

The top 10 teams in the tournament won their prizes.
Pastavilla Mac & Cheese PUBG: BATTLEGROUNDS Tournament winning teams;
AfewGoodMan

TheTroubleMakers

IWCATS Duo

TeamVivious

TeamZZ

Wexner

Red Foxes

Quard Two

Black Pearl

Chaos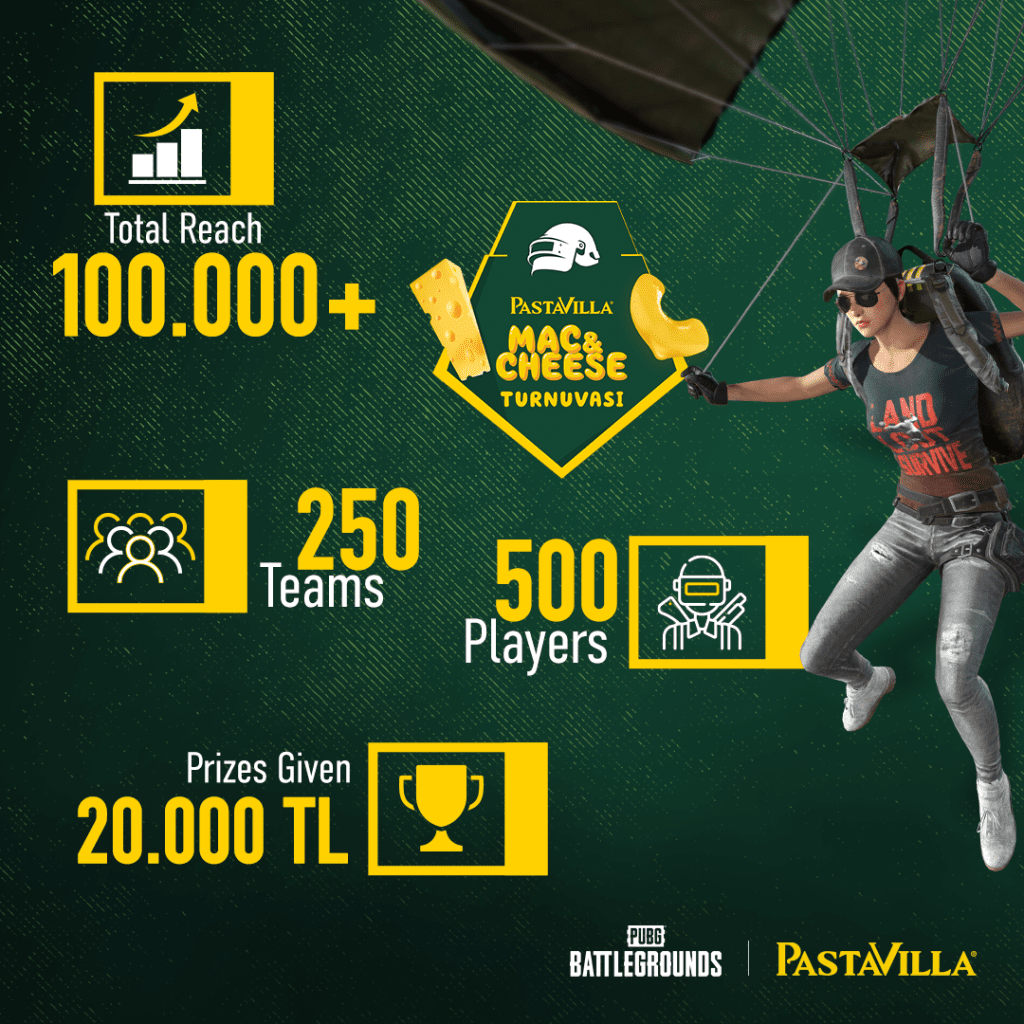 Twitch Live Streaming Stats;
The total stream time was 24 hours

The highest instantaneous viewership total was 1492.

The total number of unique viewers was 14,692.

The total number of live viewers was 23,122.
Interaction;
The number of people reached on social media was 96,360.
In 2023, we will be with our partners and gamers with our new organizations, esports tournaments, and online events. As Gaming in TURKEY | MENA | EU and Gaming in MENA Gaming and Esports Agency, we are always ready to serve you 360-degree gaming and esports marketing, esports organizations, and online tournaments for your brand and games.
About Pastavilla
The flavor journey of PASTAVILLA, Turkey's leading high-end pasta brand, began in 1992. The brand, which has been an innovator and pioneer in its sector since the day it was founded, catching up with the age with its innovative products. Today, it delivers dozens of different products produced from carefully selected durum wheat to 81 provinces and nearly 100 countries.