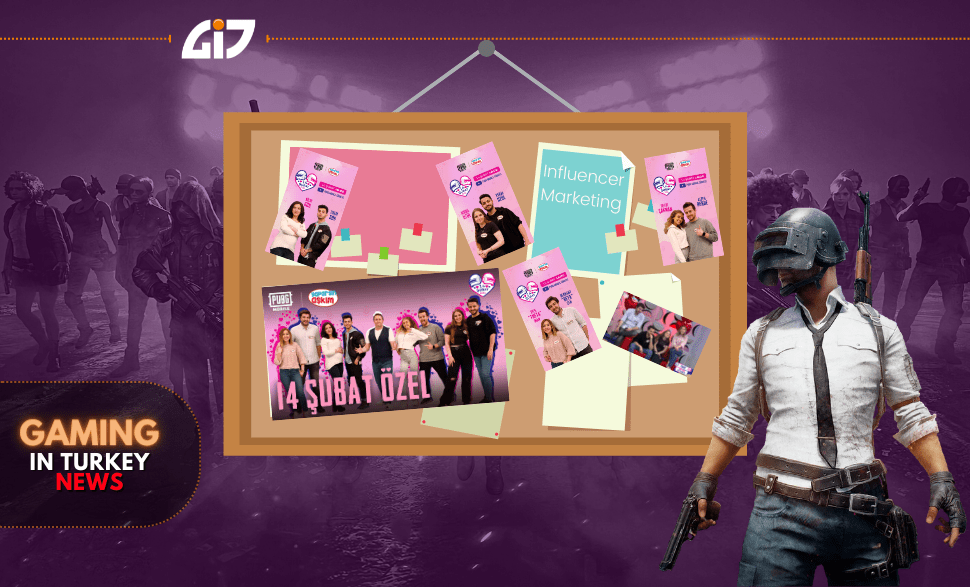 PUBG Mobile February 14 Yaparsın Aşkım Show
PUBG Mobile February 14 Yaparsın Aşkım Show! We would like to share with you the details of the PUBG Mobile February 14 event, which we briefly mentioned in our previous news. The "Yaparsın Aşkım" contest, which will be broadcast on the PUBG Mobile YouTube channel on February 14 at 19:00 and with the fun presentation of İlker Ayrık, will be with you and of course, with the influencers, you love very much.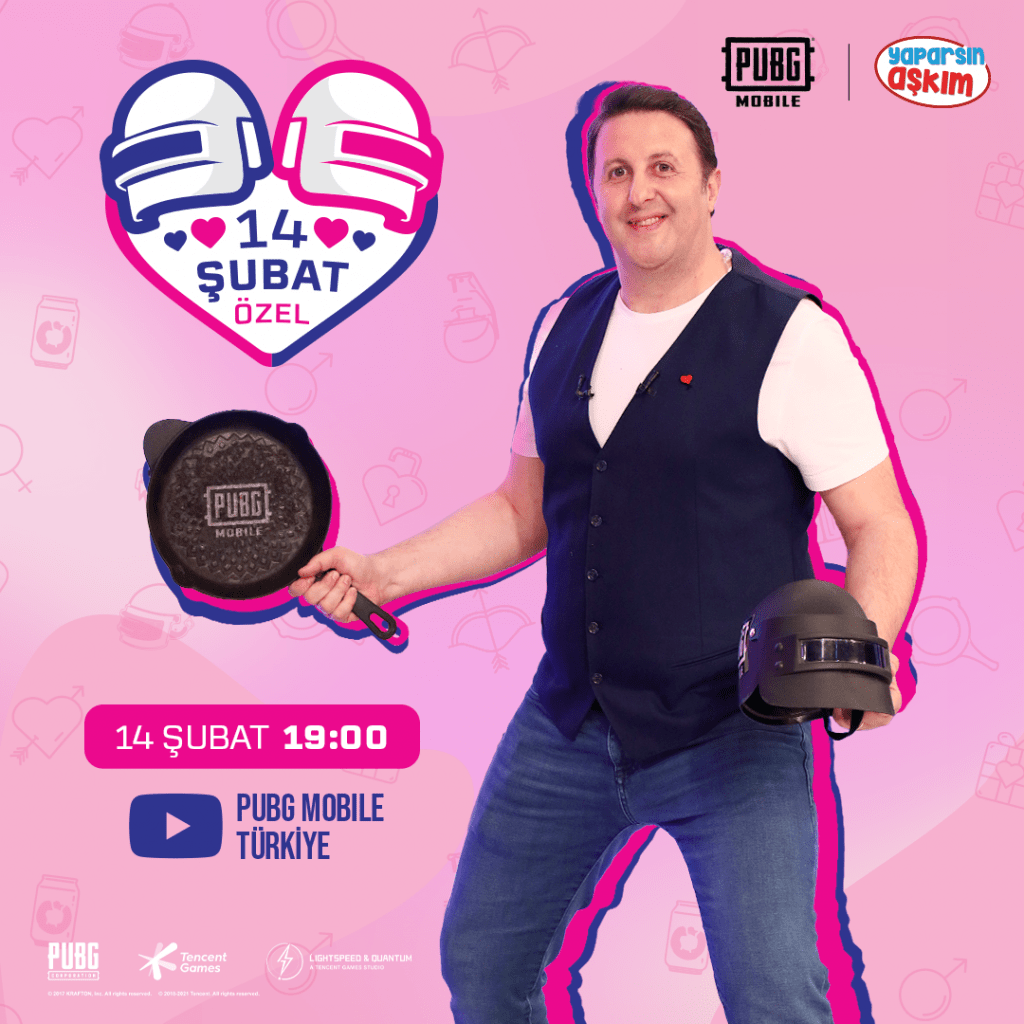 We guess there is no one who does not know the concept of "Yaparsın Aşkım" presented by İlker Ayrık and that we all watch with fun for years.
The couples compete fiercely, and the couple who knows their partner better and played the game best with the most accurate guess wins the award at the end of the day. My Man Can, which has a rating record in many countries, has been on our screens for years as "Yaparsın Aşkım" with the entertaining presentation of İlker Ayrık. Competition and Fun; All in Yaparsın Aşkım…
Now, the Yaparsın Aşkım concept meets PUBG Mobile and is presented to you with very entertaining content on February 14th.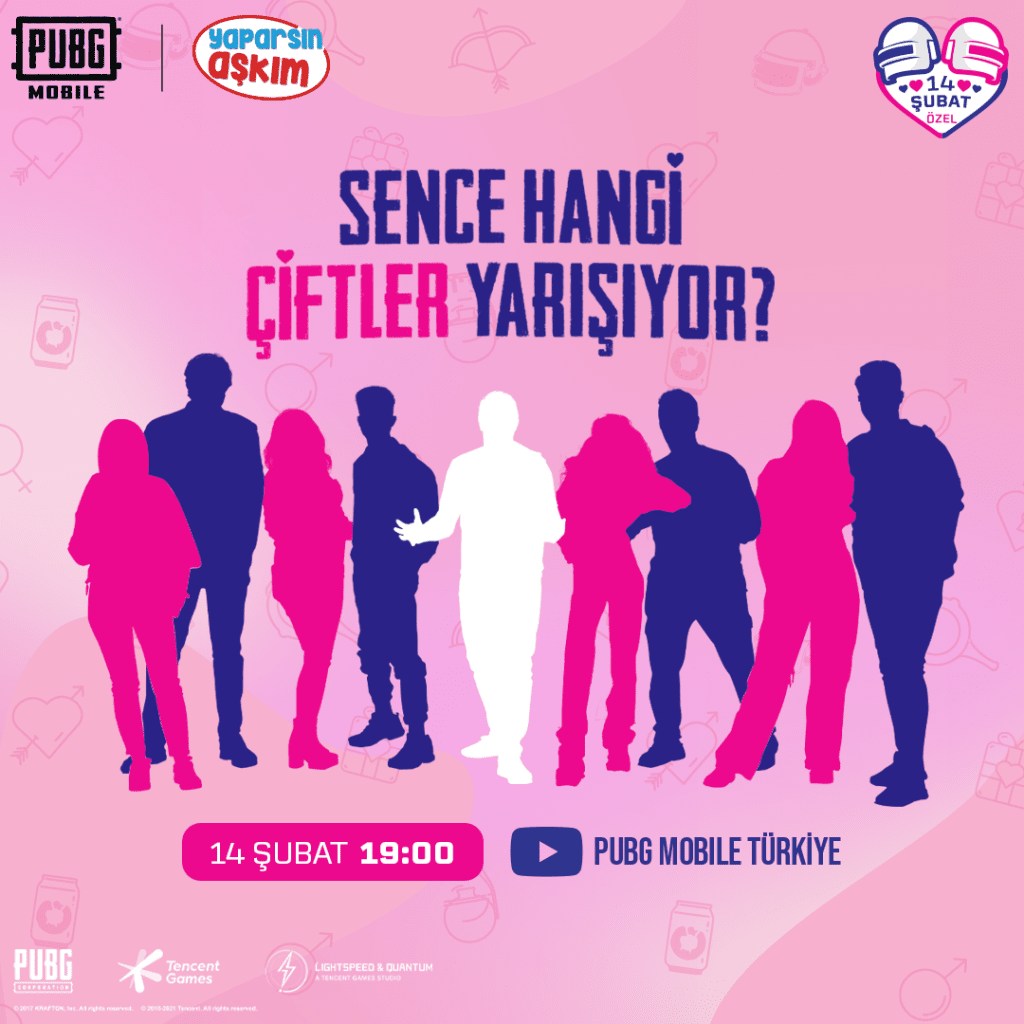 PUBG Mobile February 14 Yaparsın Aşkım Show
In the show, where the same concept will continue, this time the couples are the names that PUBG Mobile players know and love very closely. So who will be on this show? Alper Rende and Betül Çakmak, Vural Üzül and Kübra Üzül Tugay Gök and Nilay Gök, İpek İnan and Berkant. Our couples will compete both for PUBG Mobile lovers and for themselves. Let's see who will be the winner.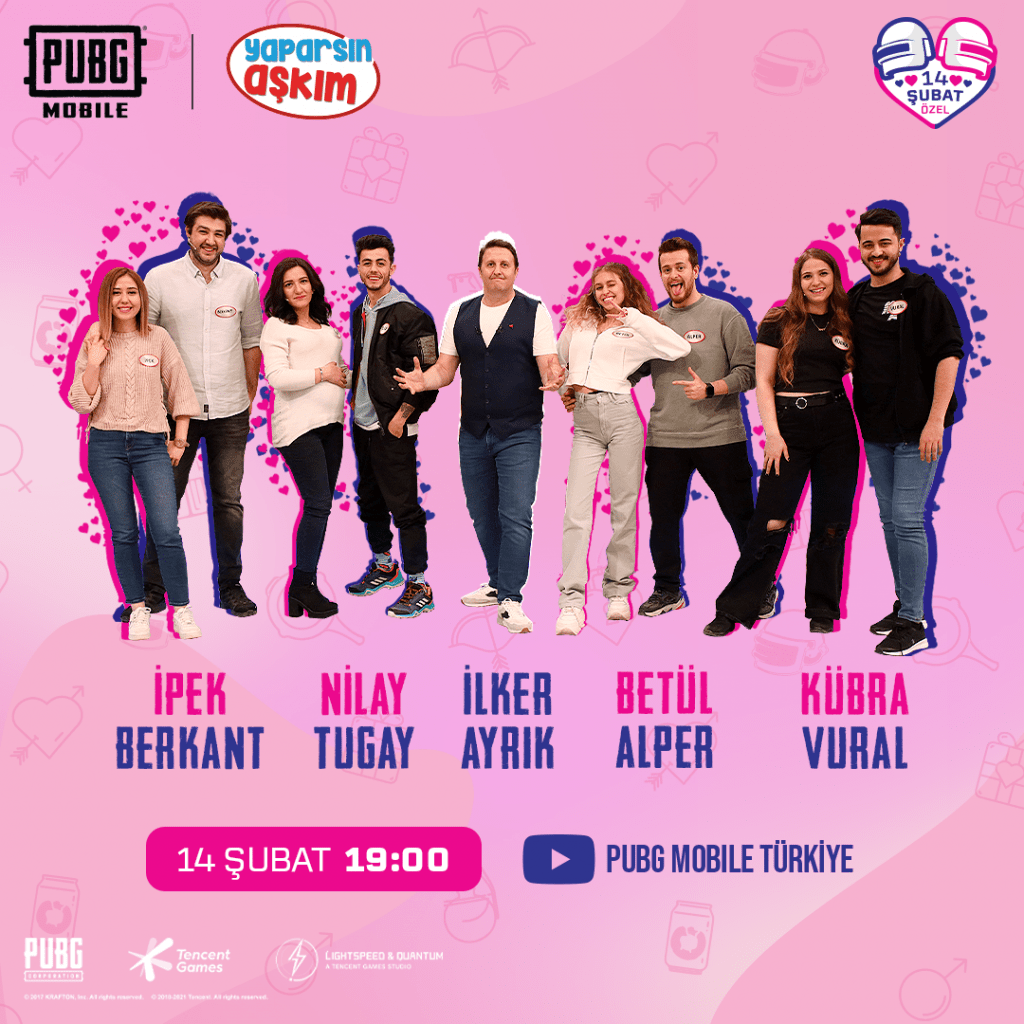 About PUBG Mobile
The official PLAYERUNKNOWN'S BATTLEGROUNDS is designed exclusively for mobile. Play free anywhere, anytime. PUBG MOBILE delivers the most intense free-to-play multiplayer action on mobile. Drop in, gear up, and compete. Survive epic 100-player classic battles, payload mode, and fast-paced 4v4 team deathmatch and zombie modes. Survival is key and the last one standing wins. When duty calls, fire at will!
2018 Mobile Game of the Year – Golden Joystick Award
Top Free iPhone Game 2018 – Apple App Store
FREE ON MOBILE – Powered by Unreal Engine 4. Console quality gaming on the go. Delivers jaw-dropping HD graphics and 3D sound. Featuring customizable mobile controls, training modes, and voice chat. Experience the most smooth control and realistic ballistics, and weapon behavior on mobile.
MASSIVE BATTLE MAPS – From Erangel to Miramar, Vikendi to Sanhok, compete on these enormous and detailed battlegrounds varying in size, terrain, day/night cycles, and dynamic weather – from urban city spaces to frozen tundra, to dense jungles, master each battleground's secrets to create your strategic approach to win.
DEPTH AND VARIETY – From the 100-player classic mode, the exhilarating payload mode to the lightning-fast Arcade and 4v4 Team Deathmatch modes, as well as the intense Zombie modes. There is something for everyone! Play Solo, Duo, and in 4-player Squads. Fire your weapon to your heart's content! Be a lone wolf soldier or play with a Clan and defeat the enemies when duty calls! Offers FPS (First-Person Shooter) and TPS (Third-Person Shooter) play, lots of vehicles for all the different terrains in the game, and an arsenal of realistic weapons. Find your perfect ride and pieces to cruise towards the final circle!
ALWAYS GROWING – Daily events & challenges, and monthly updates deliver new gameplay features and modes that keep PUBG MOBILE always growing and expanding. Our powerful and serious anti-cheating mechanisms ensure a fair and balanced gaming environment where everyone plays by the rules.