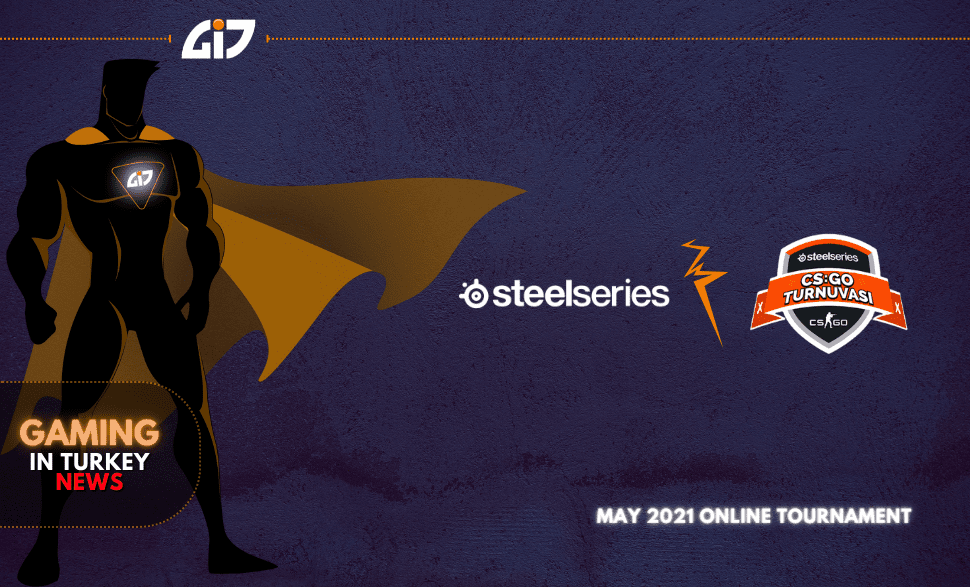 SteelSeries CS: GO Online Tournament May 2021
SteelSeries CS: GO Online Tournament May 2021! As Gaming in TURKEY | MENA | EU Gaming and Esports Agency, the CS: GO Tournament, which we organized together for our partner SteelSeries, was concluded. 64 teams and 320 players in total participated in the tournament, which witnessed quite fun and exciting moments. Awarded as gifts to the teams that won fantastic awards from SteelSeries; Arctis 5 Headset, Aerox 3 Mouse, QcK Prism Medium Mousepad. Let's see what happened in our tournament.
About the Tournament
SteelSeriesCS: GO Tournament is an award-winning esports tournament in which 64 teams and 320 players in total will compete fiercely. The tournament will be played as a team (5 people), and the matches will be held as one-day elimination, one-day quarter-final, one-day semi-final, and one-day final. Information about the lobby where the tournament will be played will be shared on GIT Esports Discord. Make sure your entire team has joined our Discord server. In the tournament to be held on the Faceit platform, the first 64 teams that send their information accurately and completely will be deemed to have registered for the tournament. Teams registered for the tournament will be announced on the Tournament Tree at the bottom of the site on Sunday, May 2nd, on the GIT Esports Discord channel and SteelSeries social media accounts.
SteelSeries CS: GO Special Tournament Page
SteelSeries CS: GO Online Tournament May 2021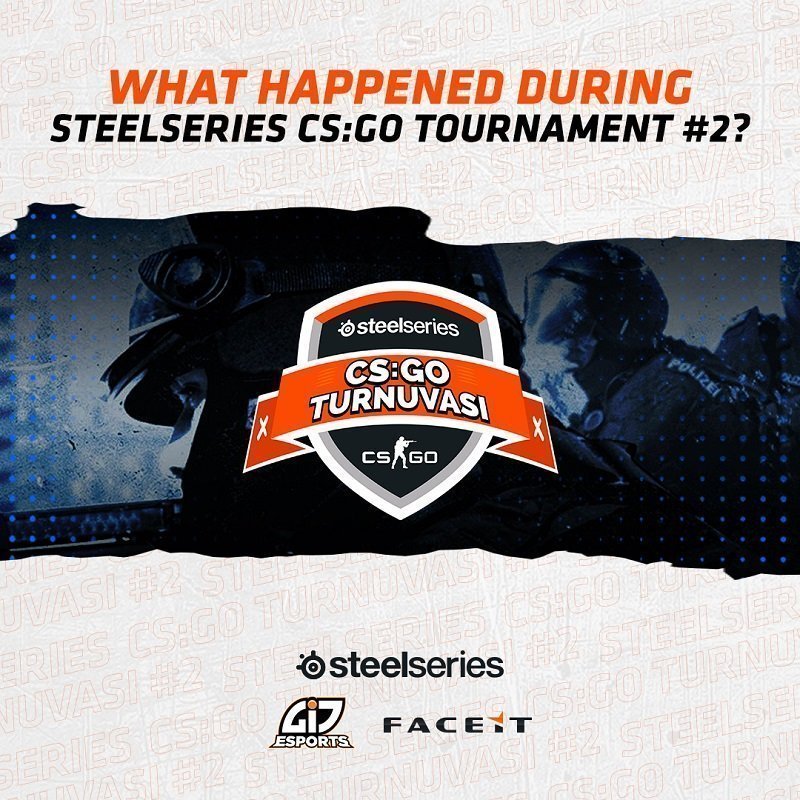 Tournament Statistics

360 players applied for the tournament.
64 teams and 320 players took part in the tournament.
The longest match lasted 1 hour and 15 minutes.
Most different score: 16-0 (Shahangiller vs. Magicfly)
The total number of matches played during the tournament was 84.
4000+ messages were sent via the Discord server.
200+ support requests were answered through the Discord server.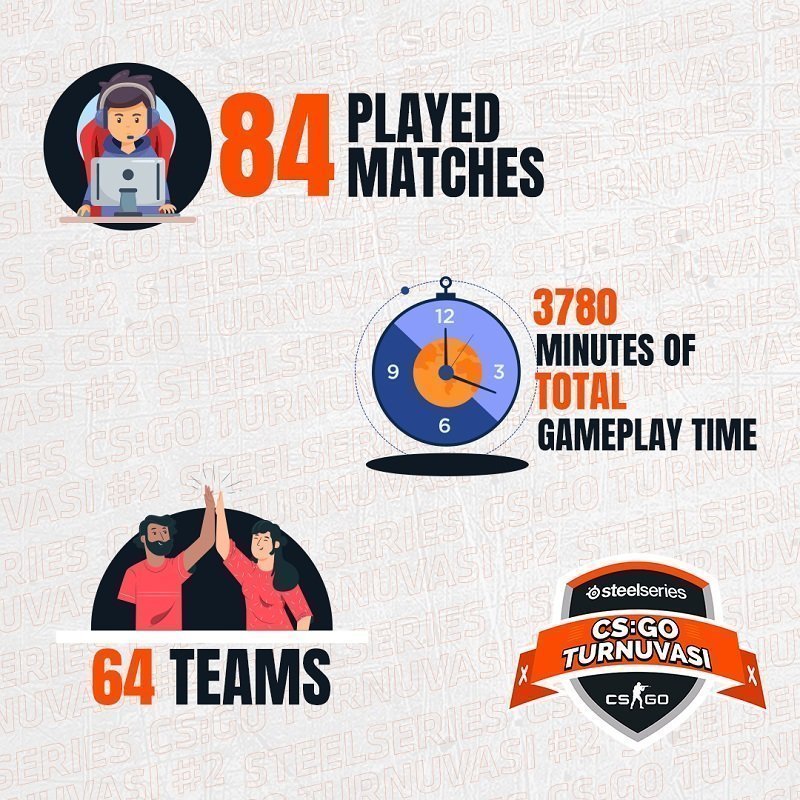 Live Broadcast Statistics
The total broadcast time was 2 hours and 5 minutes.
The instant highest number of viewers was 94.
Average watch time 2:13
During the tournament, individual viewing times totaled 152 hours and 45 minutes.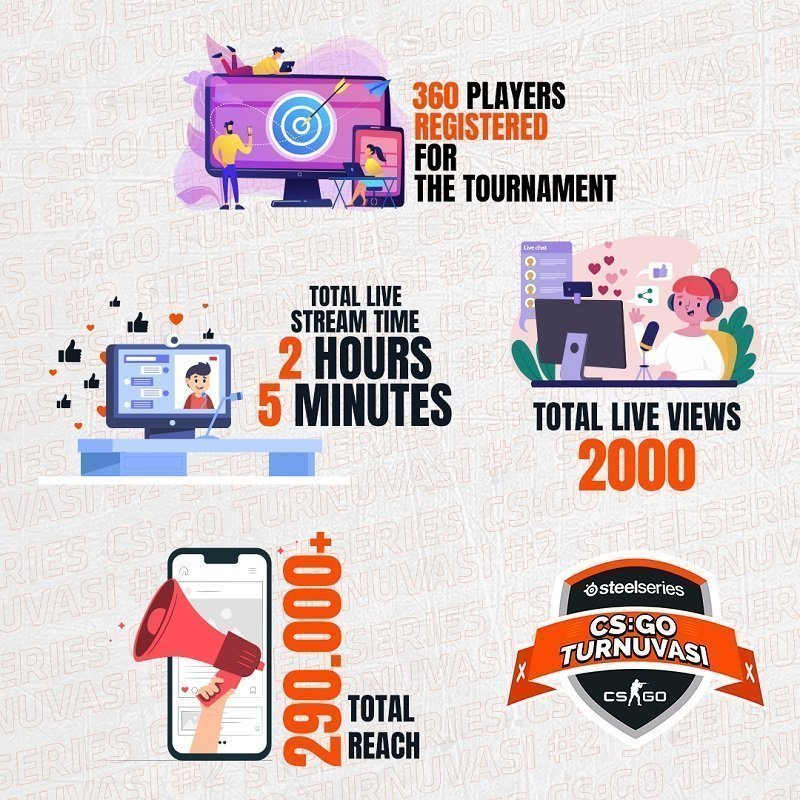 Engagement
The number of people reached on social media is 290,000+
The tournament page got 3335 views.
The tournament page was visited by 2639 individuals.
The average time spent on the tournament page was 6 minutes and 18 seconds.
In 2021, we will be with our partners and players with our new organizations, esports tournaments, and online events. As Gaming in TURKEY | MENA | EU and Gaming in MENA Gaming and Esports Agency, we are always ready to serve you 360-degree games and esports marketing, and Esports Organizations, Online tournaments for your brand and games. Level Up With Us!