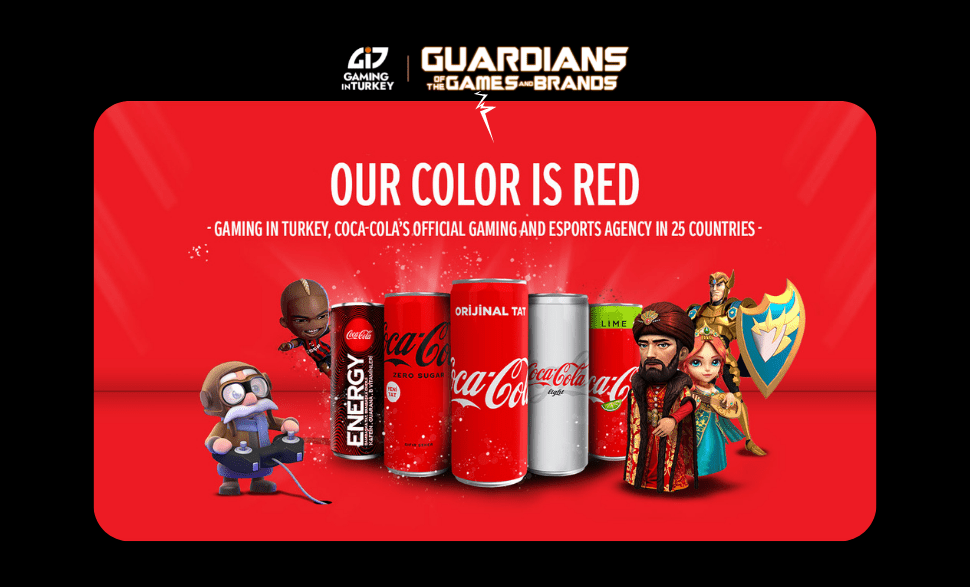 Gaming and Esports Agency of The Coca-Cola Company in 25 Countries | Red Magic
Coca-Cola
The Coca-Cola Company is the world's largest non-alcoholic beverage company with more than 500 beverage types in its portfolio. Its main color is red. And as the Gaming in TURKEY | MENA | EU Family, we loved this color;
You ask why?
As Gaming in TURKEY | MENA | EU Gaming and Esports Agency, we have been producing different projects for gaming companies and brands in both Turkey and the Middle East for about 6 years. Their success is our happiness and this happiness continues to increase with each passing year.
In December 2020, we added the color red to our happiness and we are proud of it. Believe us, we were in such a busy period that we did not even have the opportunity to announce it. Better late than never. Yes, as we said in the title; We became Coca-Cola's Gaming and Esports Agency.
Our Color is Coca-Cola! Gaming in TURKEY | MENA | EU olarak Coca-Cola'nın (The Coca-Cola Company) 25 ülkedeki resmi oyun ve espor ajansıyız.
Our company, which was first established in 2015 with 3 people, has become a huge family today. And this team will continue to work and serve Coca Cola in 25 countries as a team member of Coca Cola.
Both game companies and brands are from different sectors; If you want to produce projects with Coca-Cola, that is, with us, or take part in our different campaigns in the game and esports vertical, just send an e-mail!
coca-cola@gaminginturkey.com
Let's talk about red right away.
RED'S STORIES WILL NOT END!
You will see it sometimes in the hands of heroes, sometimes in the heart of esports, and sometimes wherever there are players. As soon as you see the red, you will understand that there will be nice surprises waiting for you.
The year is 2194, the time of the superhumans, and details are hidden in our story;
Episode 1 – 2194; Age Of Superhumans
The names of knights had become notorious, and regional wars were ongoing. "He" was in everyone's mind; the RED Knight.
Episode 2 – Red Knight
A Post-Apocalyptic world.
A girl who can't even remember her name. A destroyed world and a beautiful dream…
Episode 3 – Dream 28