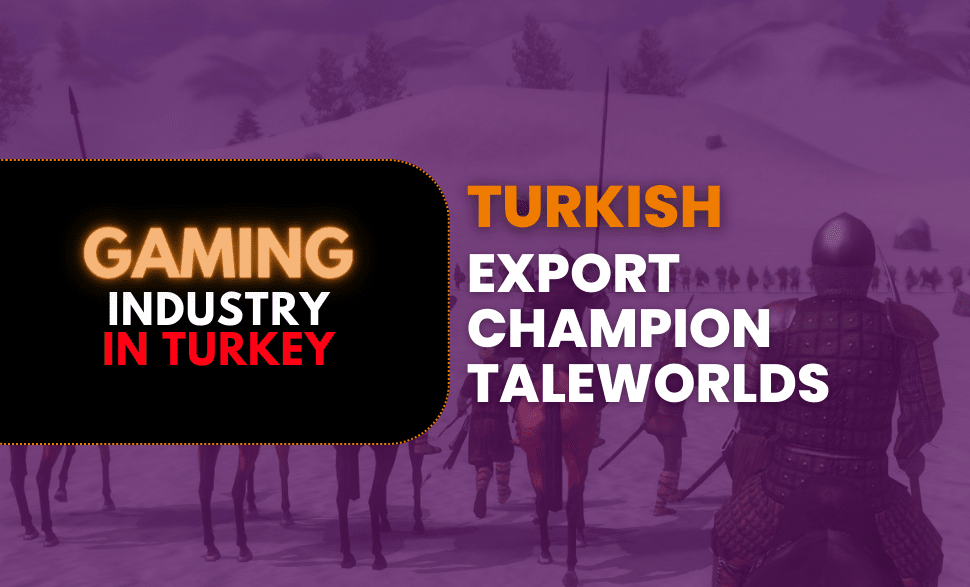 Turkish Export Champion Taleworlds
Turkish Export Champion Taleworlds! Taleworlds; Mount&Blade Series. We are proud to announce that we have published the first report on the Turkish game sector. In previous years, we were generally following Newzoo's or Statista's market research. As we make this report, we have contributions from Statista, as we have benefited from Newzoo, as well as the contributions of Perdigital, our business partner and our partner, who have an important place in Turkish field marketing with our own research. With the increase in population in 2016, the number of players also increased 2015, by 3%. This is also increased among social media users and mobile. In terms of revenue, Turkey ranked 17th in the world in 2015 and 16th in 2016. The report also includes Turkey's major websites, esports pages, payment solution companies, leading publishers, and development companies. It should be said that 2016 was successful for the Turkish game sector. Especially in the field of indie game makers, in the first half of 2016, there is information that only 100 games from Odtü Teknokent were published to the market. This fact proves that there are not only gamers in Turkey but also developers at the same time. This is a kind of development that tells us how important Turkey can be to the world game market. We hope that 2017 will be a positive year in terms of game production and the growth of the gaming industry. If we think that the Turkish gaming industry is a multi-billion dollar market and that Europe has the youngest population last year, we can talk about the existence of a market that attracts foreign investors.
TURKISH EXPORT CHAMPION TALEWORLDS PROVE REPORT

Turkish Export Champion Taleworlds: TaleWorlds proves a report on the Turkish game sector prepared by Gaming in TURKEY | MENA | EU. In his work for the Turkish Exporters Assembly and Dünya Newspaper 2016, Mount & Blade announced that is the secret export champion. Evaluated in the "Original Product" category, TaleWorlds ran out of the companies that were exported from Turkey for the first time, or those with high added value or exports other than the traditional product-market concept, making 96% of 7 million sales abroad and became a champion. Mount & Blade, number one in the list of top-selling games in the first month of sales, was sold to 212 countries and conquered another record in Turkey in its field.






The emerging Turkish game industry seems to be talking more about its name in the coming years. If you are considering an investment in Turkey, you can get support from game agencies who know the market well, know the player, and have an active spread on the field. Gaming in TURKEY | MENA | EU combines years of experience with innovative ideas to help the Turkish gaming industry grow and help foreigners how to expand and hit the target KPIs with the proper audience.
Gaming in TURKEY | MENA | EU "Media Hub For Gaming & Gaming Agency"