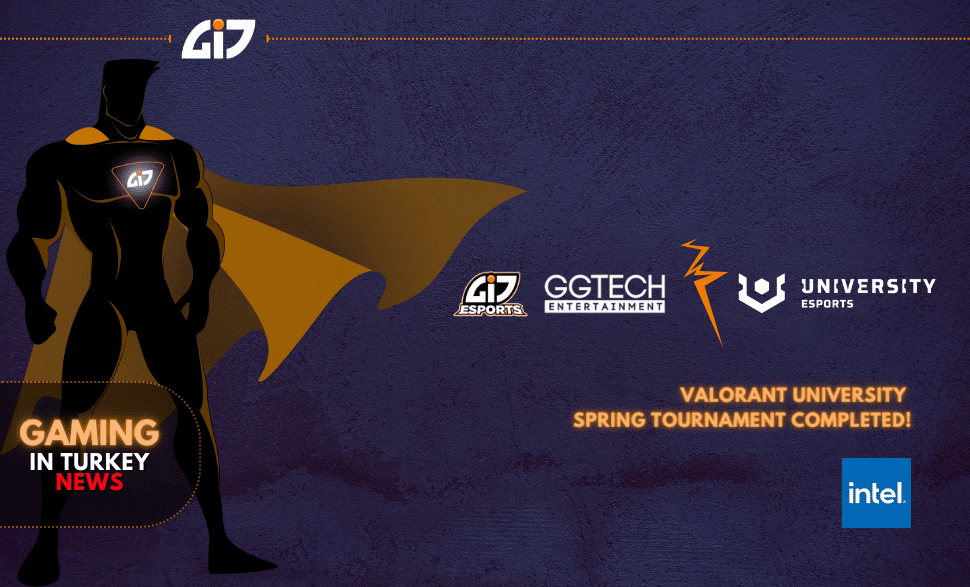 Valorant University Spring Tournament Completed!
Intel University Esports Valorant University Spring Tournament, where we organized the tournament as Gaming in TURKEY | MENA | EU Gaming and Esports Agency, has been concluded. We witnessed fierce competition and unique challenges at the Valorant University Spring Tournament sponsored by Monster Notebook. Let's see what happened at the Valorant University Spring Tournament, where guest broadcaster Semih "LEGOO" Selvi participated in the semi-final and final presentations;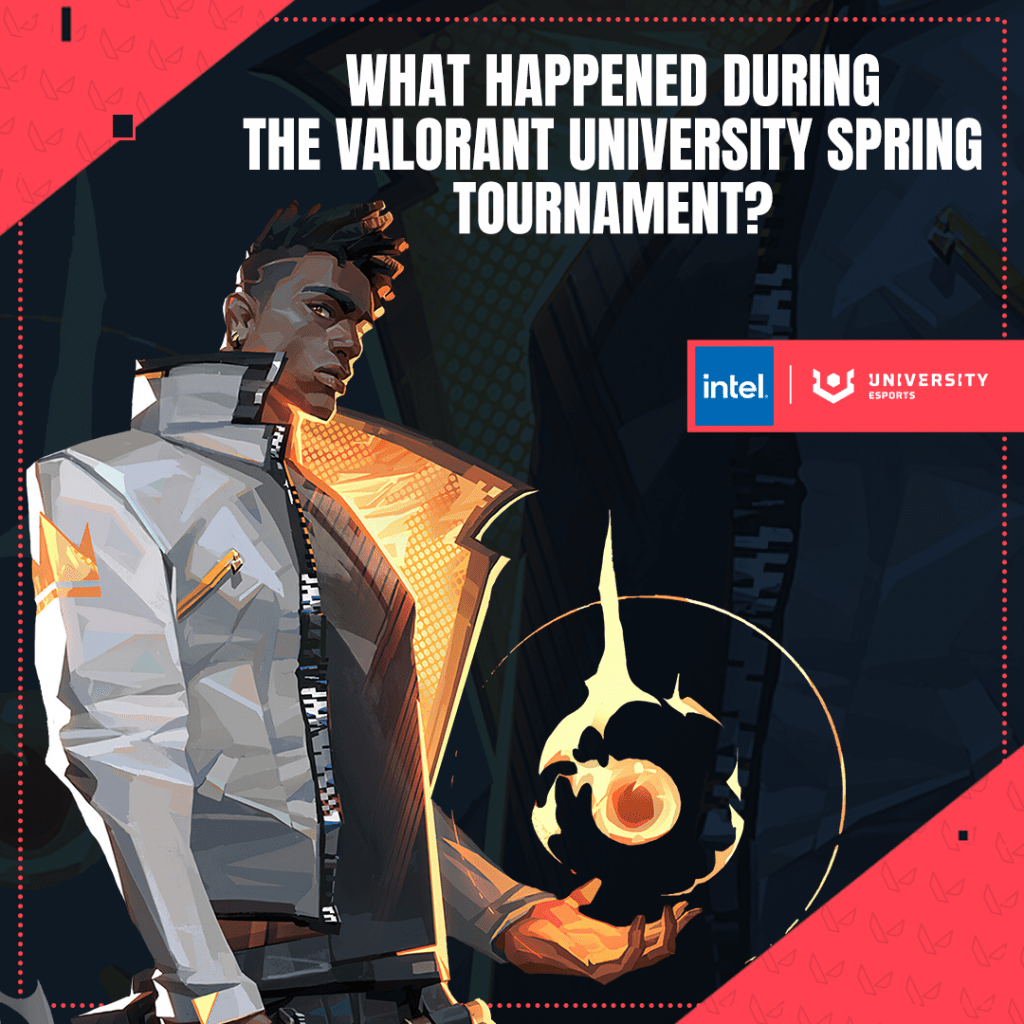 Valorant University Spring Tournament Statistics and Awards
A total of 108 matches were played
Total game time 3,240 minutes
31 teams participated in the tournament 188 players registered for the tournament
Number of Discord Messages Sent: 327
Number of players assisted in Discord: 66
Longest match: 14-16 FMV-I vs CBU
Most Scored on a Single Map: 32 – Fox Asrain – Final Match 2. match
Top maps:
Ascent (20)
Haven (10)
Bind (9)
Icebox (4)
Split (1)
Yeditepe Golden Phoenix – Yeditepe University
AMCAS – Nişantaşı University
MAU Esports – Maltepe University
GUEST BLUE – Gazi University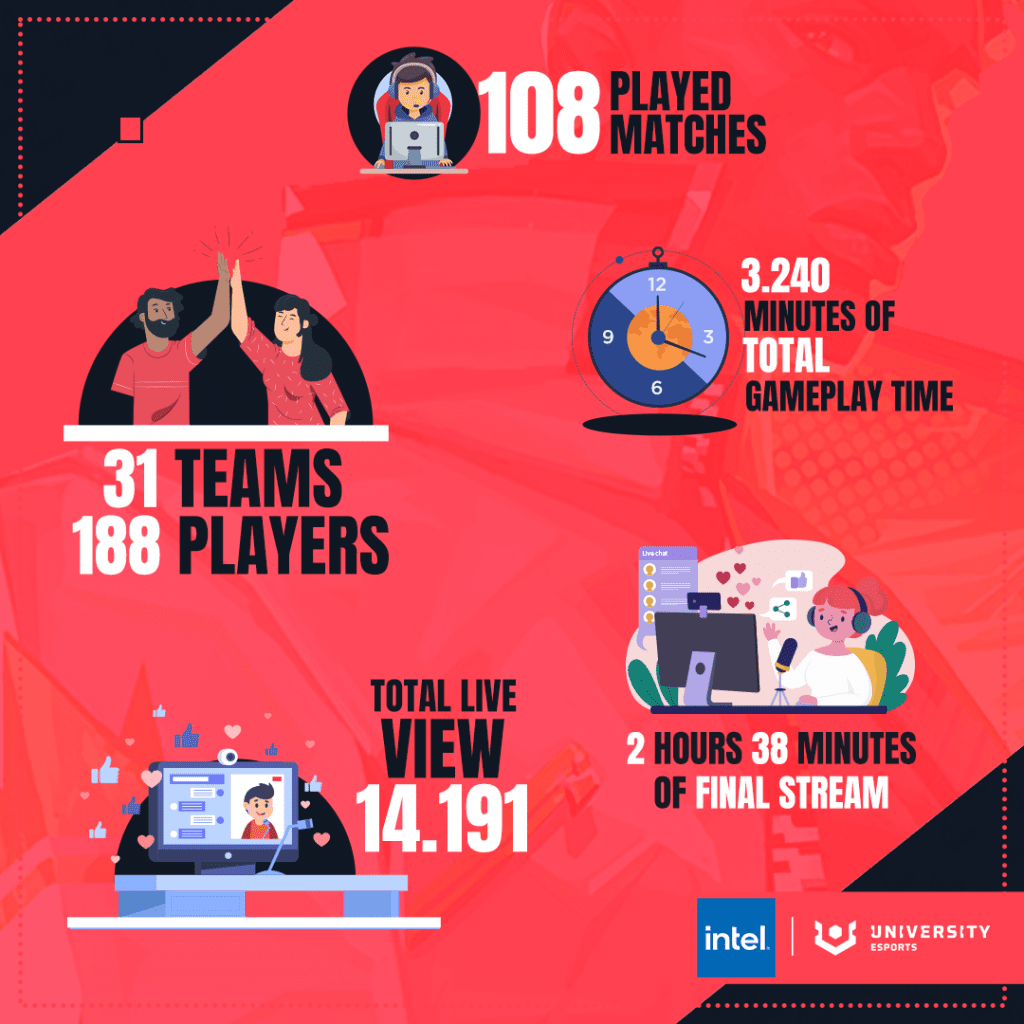 Live Stream Statistics
Total viewers: 14,191
Total live streaming time: 5 saat 38 dakika
Maximum viewers: 6.342
Final broadcast lasted 2 hours and 38 minutes
Tournament Awards
1st team 10000₺ cash prize
2nd team 7500₺ cash prize
3rd team 5000₺ cash prize
4th team 2500₺ cash prize
Awards from the tournament's main sponsor Monster Notebook
Tournament MVP Award: Monster Abra A5 v16.6.5 x1
1st Team
Monster Pusat Headset Lite x5
Monster Pusat V11 Gaming Mouse x5
Monster Bukra Bluetooth Speaker x5
2nd Team
Monster Pusat V11 Gaming Mouse x5
Monster Bukra Bluetooth Speaker x5
In addition, tournament sponsor Ozan SuperApp offers a balance of 10₺ to the activated accounts of all tournament participants!
What is Intel University Esports Turkey Tournaments?
The national operations of the University Esports project, organized by GGTech in 26 countries, will be carried out in cooperation with Gaming In Turkey, a gaming and esports agency operating in Turkey as of this year.
University Esports, a video games tournament league where the best players from each university face off for the national championship as a team, offers a new perspective on the amateur esports environment. More than 2,000 players from 128 universities and those universities are expected to compete in tournaments within Intel University Esports Turkey. Intel University Esports Turkey's biggest goal is to strengthen esports and togetherness, to improve the talents and creativity of players, and to create a university community that strengthens the values of competition with the passion for esports to contribute to supporting the personal and professional development of university students. In this context, students will face off to play in the popular games of the gaming and esports world. Popular games such as League of Legends, Wild Rift, Valorant, and Teamfight Tactics are among the games to be held.
At the University Esports Masters, called the European step of the University Esports Turkey, students from various universities across Europe take the competition to the next level. In the international tournament, which is held through various esports branches, students are fighting hard to get European championships. More than 30,000 students from 16 countries and 857 different universities are participating in the University Esports Masters.