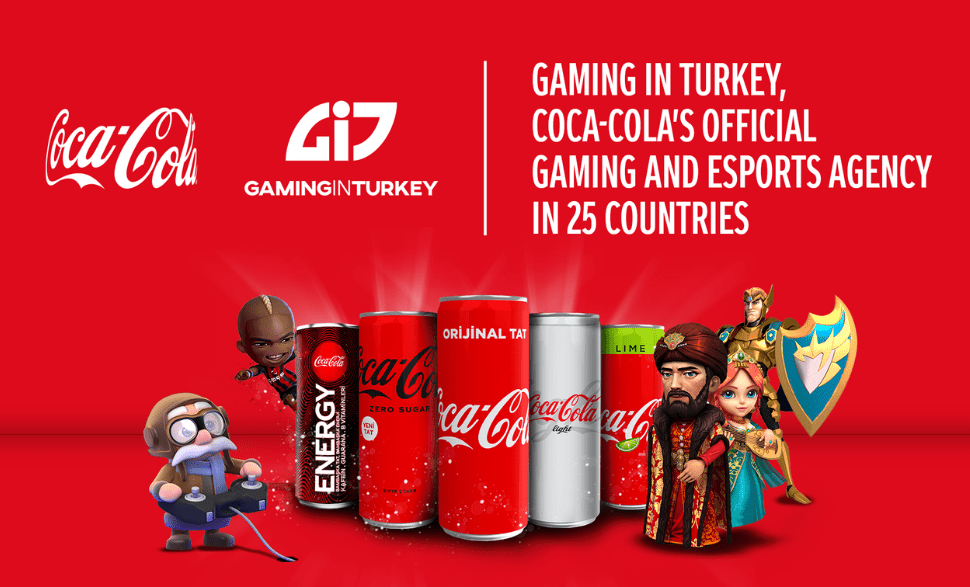 Our Color is Red Coca-Cola's Gaming and Esports Agency
Coca-Cola's Gaming and Esports Agency! Our Color is Red! As Gaming in TURKEY | MENA | EU Gaming and Esports Agency, we have been producing different projects for gaming companies and brands in both Turkey and the Middle East for about 6 years. Their success is our happiness and this happiness continues to increase with each passing year. In December 2020, we added the color red to our happiness and we are proud of it. Believe us, we were in such a busy period that we did not even have the opportunity to announce it. Better late than never. Yes, as we said in the title; We became Coca-Cola's Gaming and Esports Agency.
"OUR COLOR IS RED"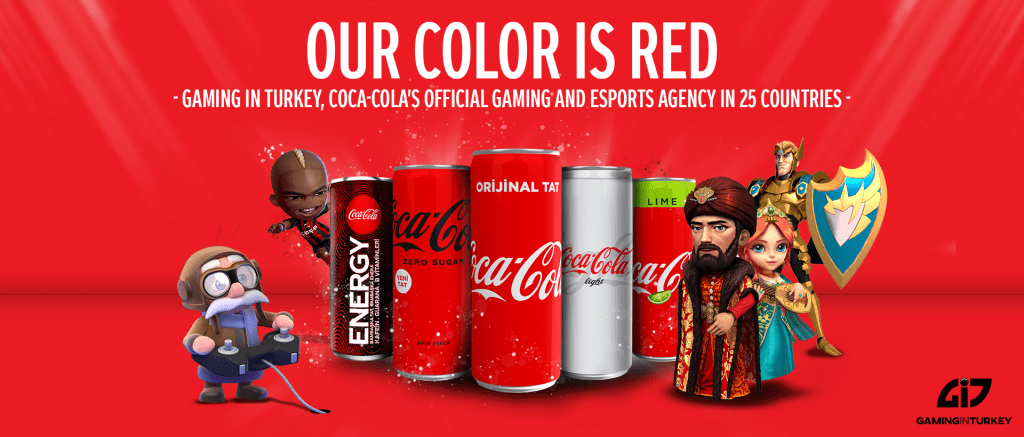 Our Color Is Red
Coca-Cola's Gaming and Esports Agency
As Gaming in TURKEY | MENA | EU, we are the official gaming and esports agency of Coca-Cola (The Coca-Cola Company) in 25 countries. Although our company, which was established 6 years ago with 4 people, continues digitally due to the pandemic today, it has now become a huge family. And this team will continue to work and serve Coca-Cola in 25 countries as a team members of Coca-Cola. Both game companies and brands from different sectors; If you want to produce projects with Coca-Cola, that is, with us, or take part in our different campaigns in the game and esports vertical, just send an e-mail;
coca-cola@gaminginturkey.com
Let's talk about red right away.

About The Coca-Cola Company

Coca-Cola is the world's largest non-alcoholic beverage company with more than 500 types of beverages in its portfolio. It also includes the world's most valuable brand Coca-Cola, as well as the brands of Cola-Cola light, Fanta, Sprite, Coca-Cola Zero Sugar, Vitaminwater, Powerade, Minute Maid, Simply, Georgia Coffee, and Del Valle, each worth $1 billion. The Coca-Cola Company, the leader in carbonated drinks, fruit juices and fruit drinks, ready-to-drink tea, and coffee categories delivers 1.9 billion glasses of non-alcoholic beverages to consumers in more than 200 countries every day.
Working for the sustainability of societies, Coca-Cola company focuses on initiatives that reduce its ecological footprint, support an active and healthy life, create a safe work environment for its employees and support the economic development of the communities in which it operates. With its bottling partners and more than 700,000 system employees, Coca-Cola is among the top 10 employers in the world.
Coca-Cola, which started its operations in Turkey in 1964, produces soft drinks with 14 brands in 8 different categories. Its rich product portfolio includes Coca-Cola, Coca-Cola Light, Coca-Cola Zero Sugar, Fanta, Sprite, Schweppes, Sensun, Cappy, Doğadan, Fuse Tea, Powerade, Damla Minera, and Damla Su. Coca-Cola Life Plus Foundation, which was established in 2009 to carry out Coca-Cola's investments in society and the environment, develops socially sensitive, innovative, result-oriented, measurable, and sustainable solutions to environmental problems with non-governmental organizations, universities, and public institutions, and conducts research for this purpose. and supports projects.